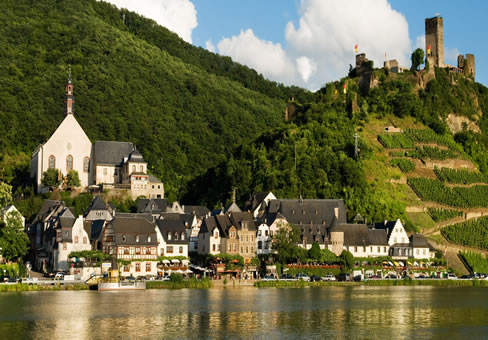 European River Cruises

River cruise itineraries include voyages through countries like Germany, Austria, Switzerland, Belgium, France, Netherlands, Hungary, Czech Republic, Italy, and more without the usual inconveniences of packing and unpacking. The "Floating Hotels" cruise by beautiful cities, villages, castles and vineyards. On the Rhine, a variety of itineraries depart from Amsterdam, Mainz and Basel. On the Danube, voyages depart from Passau, Germany (near Munich), and cruise to the Austrian and Hungarian capitals of Vienna and Budapest. In Italy, we offer round trip cruises out of romantic Venice visiting fascinating cities like Verona, Ferrara, and Parma. On the Rhone, ships sail round-trip from Lyon, France to the Burgundy and Beaujolais wine regions and the Mediterranean style cities of Avignon and Arles as well as one-way between Lyon and Avignon.
River cruises in comparison to barge cruises are different in that they cruise the rivers of Europe rather than the small canals. The ships are larger and hold from 80 to 200+ passengers. You will often find a swimming pool, beauty salon, gift shop, dancing and entertainment on board where you will not on the barge cruises.
In contrast, where the smaller barges include shore excursions, have bicycles for guests and often have open bar, the river cruises do not have an open bar policy, bicycles, and most do not include shore excursions.
Key Benefits
All-inclusive price: Meals; coffee and tea included
Your travelers unpack only once
See areas that are not covered by other motor coach tours
How to use this chart:
Column 1 is the ship name - click on the name to get ship details and pictures
Column 2 is the itinerary - click on itinerary and you will be taken to a chart listing a week by week detail of where the ship cruises.
Column 3 is the rates
Pricing
Ship
2019 / 2020 Itineraries
Inclusions
AMA
Various Ships
8 days
169 pax

Tulip Time Cruise
Amsterdam to Amsterdam

Optional 2 night pre hotel Stay in Amsterdam available

Rate includes: all sightseeing, meals, wine with dinner, daily happy hour before dinner, free internet, use of bicycles on board

AMA
Various Ships
15 days
169 pax
Magnificent Europe
Amsterdam to Budapest

Rate includes: all sightseeing, meals, wine with dinner, daily happy hour before dinner, free internet, use of bicycles on board
AMA
Various Ships
8 days
169 pax
Enchanting Rhine
Basel to Amsterdam

Optional 4 night pre land extension available in Lucerne and Zurich
Rate includes: all sightseeing, meals, wine with dinner, daily happy hour before dinner, free internet, use of bicycles on board
AMA
Various Ships
8 days
169 pax
Captivating Rhine
Amsterdam to Basel

Optional 4 night post land extension available in Lucerne and Zurich
Rate includes: all sightseeing, meals, wine with dinner, daily happy hour before dinner, free internet, use of bicycles on board
AMA
Various Ships
8 days
169 pax
Blue Danube Discovery
Budapest to Nuremburg

Optional 2 pre hotel stay in Budapest a 3 and post hotel stay available in Prague
Rate includes: all sightseeing, meals, wine with dinner, daily happy hour before dinner, free internet, use of bicycles on board
AMA
Various Ships
8 days
169 pax
Legendary Danube
Nuremburg to Budapest

Optional 3 night pre hotel stay available in Prague
Rate includes: all sightseeing, meals, wine with dinner, daily happy hour before dinner, free internet, use of bicycles on board
AMA
Various Ships
8 days
169 pax

Melodies of the Danube
Budapest to Vilshofen



Optional 3 night post hotel stay available in Prague or Munich

Rate includes: all sightseeing, meals, wine with dinner, daily happy hour before dinner, free internet, use of bicycles on board
AMA
Various Ships
8 days
169 pax
Romantic Danube
Vilshofen to Budapest

Optional 3 night pre hotel stay available in Prague or Munich
Rate includes: all sightseeing, meals, wine with dinner, daily happy hour before dinner, free internet, use of bicycles on board
AMA
Various Ships
8 days
169 pax
Gems of Southeast Europe
Budapest to Bucharest

2 nights in Vienna, 1 night Brasov and 2 night Bucharest pre and post
land extensions available
Rate includes: all sightseeing, meals, wine with dinner, daily happy hour before dinner, free internet, use of bicycles on board
AMA
Various Ships
8 days
169 pax
Europe's Rivers and Castles
Nuremburg to Trier

Optional 3 night pre hotel stay available in Prague and 2 nights in Paris
Rate includes: all sightseeing, meals, wine with dinner, daily happy hour before dinner, free internet, use of bicycles on board
AMA
Various Ships
8 days
169 pax
Medieval Treasures
Basel to Nuremburg

Optional 3 night pre hotel stay available in Zurich and 3 nights in Prague
Rate includes: all sightseeing, meals, wine with dinner, daily happy hour before dinner, free internet, use of bicycles on board
AMA
Various Ships
8 days
169 pax
Rhine and Moselle Splendors
Luxembourg to Basel

Optional 3 night hotel stay available in Paris and 3 nights in Zurich
Rate includes: all sightseeing, meals, wine with dinner, daily happy hour before dinner, free internet, use of bicycles on board
AMA
Various Ships
8 days
169 pax
Vineyards of the Rhine and Moselle
Amsterdam to Luxembourg

Optional 2 pre cruise nights in Amsterdam and 3 night post cruise in Paris
Rate includes: all sightseeing, meals, wine with dinner, daily happy hour before dinner, free internet, use of bicycles on board
AMA
Various Ships
11 days
169 pax
Rhine and Moselle Delights
Basel to Amsterdam

Optional 3 pre cruise nights in Zurich
Rate includes: all sightseeing, meals, wine with dinner, daily happy hour before dinner, free internet, use of bicycles on board
AMA
Various Ships
12 days
169 pax
Rhine and Moselle Fairytales
Amsterdam to Basel

Optional 2 Pre nights in Amsterdam and
4 post cruise nights in Zurich
Rate includes: all sightseeing, meals, wine with dinner, daily happy hour before dinner, free internet, use of bicycles on board
AMA
AmaDolce
8 days
146 pax

Legendary Wine Regions of the Garonne
in Bordeaux

Roundtrip Bordeaux
Cadilac, Pauillac, Blaye, Bourg, Libourne

Optional 2 nights each in Bilbao and San Sebastion Spain pre cruise and post land extensions available in Loire Valley (2) and Paris (1)

Rate includes: all sightseeing, meals, wine with dinner, daily happy hour before dinner, free internet, use of bicycles on board
AMA
AmaLyra
8 days
169 pax
Normandy and Paris Seine River
Paris Round Trip

Optional 2 night land extensions available in Paris
Rate includes: all sightseeing, meals, wine with dinner, daily happy hour before dinner, free internet, use of bicycles on board
AMA
AmaDagio
8 days
169 pax
Colors of Provence and Spain
Lyon to Arles

Optional 2 night land extensions available in Paris and 3 nights in Barcelona
Rate includes: all sightseeing, meals, wine with dinner, daily happy hour before dinner, free internet, use of bicycles on board
AMA
AmaVida
8 days
106 pax
Enticing Douro of Portugal
Porto Round trip

Optional 3 night pre land extensions available in Lisbon
Rate includes: all sightseeing, meals, wine with dinner, daily happy hour before dinner, free internet, use of bicycles on board
AMA
AmaVida
8 days
106 pax
Flavors of Portugal and Spain
Douro River Cruise and Flamenco

Optional 3 night extensions available in Madrid and 3 night extension in Lisbon

Rate includes: all sightseeing, meals, wine with dinner, daily happy hour before dinner, free internet, use of bicycles on board
---