Legendary Danube River Cruise
Journey on the Danube River
7 night Nuremburg to Budapest
and 3 nights land tour in Prague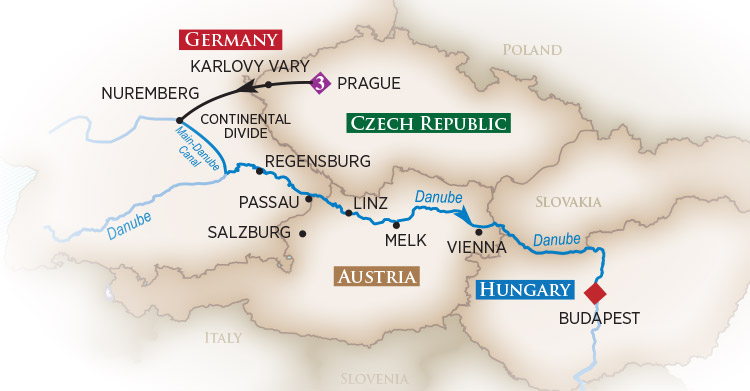 Day 1 DEPART USA/CANADA
Board your overnight flight to Prague, Czech Republic.
Day 2 ARRIVE IN PRAGUE, CZECH REPUBLIC
Arrive in Prague and transfer to your hotel. The balance of the day is free to start exploring this beautiful city.
Day 3 PRAGUE
Your morning's sightseeing tour reveals why Prague is considered one of Europe's most attractive cities, with its historic city center recognized as a UNESCO World Heritage Site. You will see Wenceslas Square and the Metronome overlooking the Vltava River before arriving a the 1,000-year-old Prague Castle for a visit. Afterwards, walk over Charles Bridge to the Old Town Square and see the Church of Our Lady before Tyn and the famous Astronomical Clock. This evening, an optional Folklore Dinner Show provides an opportunity to learn about Czech music, dance and traditions. (B)
Day 4 PRAGUE
Spend a day at your leisure or participate in an optional tour to Terezin, the infamous Nazi WWII concentration camp, now serving as a memorial to those who perished. (B)
Day 5 PRAGUE - KARLOVY VARY - EMBARKATION - NUREMBERG
Depart from Prague after breakfast via motor coach and enjoy a stop in Karlovy Vary, better known by its German name, Carlsbad, famous for its Bohemian Spas. After lunch, drive through the pastoral (Bohemian) countryside to Nuremberg, the capital of Franconia. Tonight, meet your fellow passengers at the Welcome Dinner. The ship will moor overnight in Nuremberg. (B,D)
Day 6 NUREMBERG - CROSSING THE CONTINENTAL DIVIDE
Today, take the Medieval History of Nuremberg tour and see the storybook 900-year-old ramparts that surround this historic city and the Imperial Castle. Previously one of Europe's greatest trade towns, you will see some of the original city walls and towers constructed around Nuremberg. Another option is the World War II history tour to explore Nuremberg during the time of the Third Reich. Designated the "City of the Reichsparteitage" (Nazi Party Rallies), you will visit the Zeppelin Field and Rally grounds. Visit the Coliseum and the Justice Palace where the War Crimes Tribunal sat in 1946 (when available). (B,L,D)
Day 7 REGENSBURG
This morning's scenic cruising takes you through the final stretch of the Main-Danube Canal to arrive in magnificent Regensburg, one of Germany's best preserved medieval cities. A guided tour will show you the city's architectural highlights, including the Old Town Hall and the Porta Praetoria - gates to an ancient Roman fort which was built in 179AD. In the alternative, visit the Audi Factory in Ingolstadt, where a member of the Audi team will take you on a guided tour of the Audi Car Museum or Factory Floor (subject to availability). In the afternoon, you are free to join the optional excursion to beautiful Weltenburg Abbey and see the scenic Danube Gorge (seasonal) or take a guided bike tour to visit the Walhalla Temple which honors distinguished Germans throughout history. (B,L,D)
Day 8 PASSAU - LINZ, AUSTRIA
After breakfast, arrive in picturesque Passau, where the Inn and Ilz rivers join the Danube. You have your choice of a Passau walking tour or an optional excursion to Salzburg. The 2,000-year-old city is noted for its Gothic and Italian Baroque architecture. Walk the cobblestone streets of the Old Town where you will see the fortifications and St. Stephan's Cathedral, home to the largest cathedral organ in the world. If you choose the optional Salzburg excursion, you will begin your walking tour of the historic center, famous as the setting for the "Sound of Music" and as the birthplace of Mozart. Enjoy free time on your own, before returning to the ship which is now docked in Linz. After dinner, perhaps take a walk through this delightful town, Austria's third largest city and a major river port. (B,L,D)
Day 9 MELK - VIENNA
Cruise through the narrow Strudengau and reach the Wachau Valley early this morning. Your guided tour takes you to Melk's magnificent Benedictine Abbey. Return to the ship for lunch, before you cruise the romantic Wachau Valley. Arrive in Vienna, after dinner and explore the magnificent Austrian capital on your own or enjoy an optional evening Mozart and Strauss concert. (B,L,D)
Day 10 VIENNA
Savor the Baroque elegance of romantic Vienna on the guided city tour which includes the world famous Vienna Opera House, the majestic Ringstrasse, the awe-inspiring St. Stephen's Cathedral and more. The tour is followed by free time in the city center to shop for souvenirs or sample some of Vienna's famous pastries. In the alternative, join an optional tour to the Imperial Schönbrunn Palace, which is a fine example of Baroque architecture. (B,L,D)
Day 11 BUDAPEST, HUNGARY
This morning, a sightseeing tour takes you to historic Buda Castle from where you can enjoy a splendid view of the twin cities of Buda and Pest spread over both banks of the River. Your tour also features the distinctive Fisherman's Bastion, the marvelous Royal Palace, St. Stephen's Basilica, the famous Heroes' square and more. An afternoon optional excursion takes you back to the Hungarian Revolution of 1956. What started out as a student demonstration, quickly spread across the country causing an uprising against the Communist regime. After dinner, the ship will sail a special "Illuminations Cruise" past the illuminated river front of Budapest. (B,L,D)
Day 12 DISEMBARKATION - DEPART BUDAPEST
Bid farewell to Budapest and transfer to the airport for your homeward flight. (B)
Itineraries and excursions are subject to change.
2019 / 2020 Per Person Cruise Fares


Cruise Departure

Ship:


Piano Deck -
Cat E
w/window

Piano Deck -
Cat D
w/window

Violin/Cello
Deck - Cat C
w/French
balcony

Cello
Deck - Cat BB
w/twin
balconies fwd and mid

Violin Deck -
Cat BA
w/twin
balconies

Cello Deck -
Cat AB
w/twin
balconies

Violin Deck -
Cat AA
w/twin
balconies

Violin Deck - Suite
w/twin
balcony

Nuremberg to Budapest

12-May-19
AmaCerto
$3,599
$3,898
$4,498
$4,998
$5,198
$5,398
$5,598
$6,898
7-Jul-19
AmaCerto
$3,599
$3,898
$4,498
$4,998
$5,198
$5,398
$5,598
$6,898
4-Aug-19
AmaCerto
$3,599
$3,898
$4,498
$4,998
$5,198
$5,398
$5,598
$6,898
1-Sep-19
AmaCerto
$3,899
$4,198
$4,798
$5,298
$5,498
$5,698
$5,898
$7,198
29-Sep-19
AmaCerto
$3,899
$4,198
$4,798
$5,298
$5,498
$5,698
$5,898
$7,198
27-Oct-19
AmaCerto
$3,399
$3,698
$4,298
$4,798
$4,998
$5,198
$5,398
$6,698
10-Apr-20
AmaSonata
$3,099
$3,398
$4,098
$4,598
$4,798
$4,998
$5,198
$6,498
24-Apr-20
AmaSonata
$3,299
$3,598
$4,298
$4,798
$4,998
$5,198
$5,398
$6,698
05-Jul-20
AmaCerto
$3,699
$3,998
$4,698
$5,198
$5,398
$5,598
$5,798
$7,098
02-Aug-20
AmaCerto
$3,699
$3,998
$4,698
$5,198
$5,398
$5,598
$5,798
$7,098
26-Oct-20
AmaViola
$3,599
$3,898
$4,598
$5,098
$5,298
$5,498
$5,698
$6,098
09-Nov-20
AmaViola
$3,299
$3,598
$4,298
$4,798
$4,998
$5,198
$5,398
$6,698
3 Nights in Prague - $840 per person additional for 2019.
3 Nights in Prague - $870 per person additional for 2020.
Port Charges are an additional $182 / $189 per passenger for 2019 / 2020 // Single Supplement 50% of twin, Balcony / Suite 100% of twin
rates include: standard or SLIDING GLASS DOOR CABIN or CABIN WITH A USEABLE BALCONY, excursions, free internet, all meals, wine with dinner and daily happy hour before dinner

LINK TO AMA SHIP DETAILS AND PICTURES: Amacerto
LINK TO AMA DECK PLANS: Amacerto,