Rhine and Moselle Splendors
7 night cruise between Luxembourg and Basel
3 nights pre cruise land tour of Paris
and 3 nights post cruise land tour of Zurich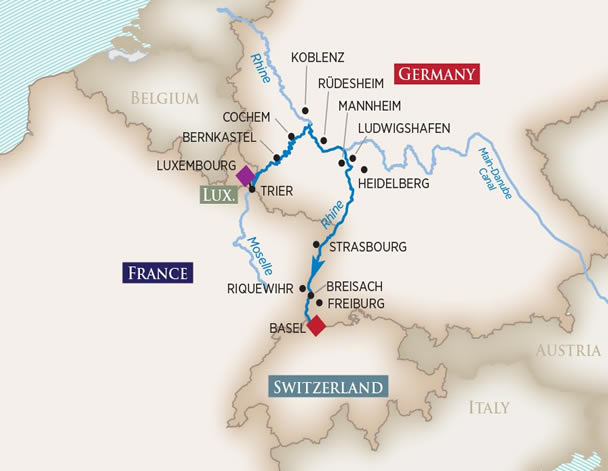 Expand your imagination in fairytale villages enchanting Cochem where folklore and history come alive in every street, and in well-preserved Bernkastel with its medieval Market Square and half-timbered houses. Whimsical fantasies abound at Siegfried's Mechanical Musical Instrument Museum and at the Palace Gardens of Schwetzingen, a cultural heritage site of European significance with more than 100 sculptures scattered throughout its surprising landscape. Blend German heritage with Italian in Trier, with its Roman Imperial Baths and the Porta Nigra; and with French heritage in Strasbourg, and you have the most splendid journey.
Day 1 ARRIVE IN PARIS FRANCE
Arrive in Paris and check-in to your hotel.
Day 2 PARIS
Enjoy a morning tour of Paris, taking in all its iconic sites, including the Eiffel Tower, the Arc de Triomphe, the Champs-Élysées and Place de la Concorde. You'll pass the magnificent Opéra Garnier, the legendary Louvre and, on the Left Bank, the Sorbonne University and the Panthéon. (B)
Day 3 PARIS
Visit Montmartre, long known as the city's premier artist's enclave. For easy access to Montmartre, you'll hop aboard the funicular railroad that ascends the hill. Montmartre's most recognizable landmark is the Basilica du Sacre-Coeur, the highest point in the city. After your visit to Montmartre, you'll be taken on an illumination tour. (B)
Day 4 PARIS - LUXEMBOURG - EMBARKATION
Bid au revoir to Paris as you board your TGV high-speed train that will whisk you away to Luxembourg, one of Europe's last independent duchies. Enjoy a guided walking tour as well as a stop at the American Cemetery and Memorial, the final resting place of General George Patton, before boarding your luxury ship. (B,D)
Day 5 SCHWEICH, GERMANY - TRIER - BERNKASTEL
Trier, Germany's oldest city, has often been referred to as the second Rome. Be guided to the Roman Imperial Baths, the Porta Nigra and Emperor Constantine's Throne Room. Or hike to Petrisberg Hill, where you'll take in a spectacular view of the city and its glorious spires. You can also cycle along the Moselle River past Trier's Imperial Baths, Porta Nigra city gate and other historic sites. During the afternoon, sail to Bernkastel, strategically located in the middle of the Moselle Valley's wine-producing region. Walk through the colorful Old Town center and past many medieval buildings before enjoying a wine tasting at a local winery. For those who prefer to be more active, trek up to the ruins of Landshut Castle, which dates all the way back to the 9th century, or pedal along the Moselle River from Bernkastel to Losnich and past the historic Abbey Machern, Roman ruins in the winemaking town of Erden and sun-kissed vineyards. (B,L,D)
Day 6 COCHEM - LAHNSTEIN
History comes to life in Cochem with its half-timbered houses and Reichsburg Castle. Join a guided tour through the castle, and then walk through its Old Town. For those wishing to have a more active exploration of the area, you can go on a guided hike to the castle. Or visit one of Europe's oldest mustard mills in Cochem (dating back to 1810) for a taste of its finest mustard recipe. Later in the day, sail along the Moselle, taking in the fascinating scenery before arriving in Lahnstein where you'll enjoy a visit to Lahneck Castle. (B,L,D)
Day 7 RHINE GORGE - RUDESHEIM
Cruise through the captivating UNESCO-designated Rhine Gorge, the most stunningly beautiful stretch of the river, before reaching the winemaking town of Rudesheim. Drink up the stunning views by soaring high above the vineyards with a gondola ride to the Niederwalddenkmal Statue, and afterwards be treated to a wine tasting. For a more active adventure, hike through the town's beautiful vineyards or join a guided bike tour along the scenic Rhine River to Schloss Johannisberg. Later in the day, let Siegfried's Mechanical Musical Instrument Museum charm you or taste one of the town's special delights, Rudesheimer coffee, ceremoniously made with brandy, coffee and whipped cream. (B,L,D)
Day 8 LUDWIGSHAFEN
You have a choice of several excursions, depending on your interest. Visit Heidelberg, a perfectly preserved medieval city nestled in the Neckar River Valley along Germany's Castle Road. Alternatively, relive a bygone era on an excursion to the glorious Schwetzingen Palace and Gardens. Tour this splendid palace and wander through its gardens with more than 100 sculptures and an assortment of whimsical buildings. The Apollotempel houses a statue of the ancient Greek god of light and the arts, playing the lyre; and the most spectacular, the Terkischer Garten with a mosque, are a few of the many highlights you will see. For those seeking a more active adventure, hike the historic Philosopher's Path along the Neckar River or join a guided bike tour along the Neckar River to the medieval town of Ladenburg. (B,L,D)
Day 9 STRASBOURG, FRANCE
Strasbourg, the capital city of Alsace, has flavors of both France and Germany which you'll get to discover. Enjoy a panoramic bus tour past the stunning Parc de l'Orangerie, the European Parliament and the Place de la Republique followed by a walking tour through its iconic "La Petite France" district, which appears to have been lifted straight from the pages of a fairytale. You'll also see the Cathedrale de Notre Dame with its famous astronomical clock. The active adventurer can join a guided Old Town bike tour, which also takes you through the Parc de l'Orangerie. (B,L,D)
Day 10 BREISACH,GERMANY - BASEL, SWITZERLAND
Breisach is your gateway to several different excursions, depending on your interests. Step back in time with a visit to the enchanting Alsatian town of Riquewihr, which looks almost the same as it did in the 16th century. On your walking tour, admire historic architecture as well as famous sights, such as the Dolder Gate. Alternatively, you may wish to go to Freiburg, founded in 1120 and home to the Freiburg's Munster, a Gothic cathedral said to have "the most beautiful spire on earth." You also have the choice to go on a hike in the Black Forest, a magical land full of cultural traditions; or cycle through the scenic countryside. (B,L,D)
*Please Note: Black forest hike is weather dependent and may only operate at certain times of year. Please refer to your final documents for details.
Day 11 BASEL - DISEMBARKATION - LUCERNE - ZURICH, SWITZERLAND
Disembark the ship and before transferring to Lucerne, go on a highlights tour of Basel, one of Switzerland's most cosmopolitan cities. En route to your Lucerne hotel, stop at the iconic Lion Monument, sculpted in memory of the Swiss Guards massacred during the French Revolution. Afterwards, check into your hotel and enjoy a leisurely evening. (B)
Day 12 LUCERNE
Discover the unrivaled beauty and charm of this pristine city on a walking tour. You'll also visit the spectacular medieval walls and towers, dating back to the 13th century. There is a total of nine towers, including one featuring the oldest clock in the city. (B)
Day 13 LUCERNE - ZURICH
Check out of your hotel and transfer via motorcoach to Zurich, traveling past scenic landscapes and enjoy a scenic lake cruise. Once in Zurich, you'll check into your hotel. (B)
Day 14 ZURICH
Set alongside a glistening lake and framed by the Alps, Switzerland's largest city, Zurich, seamlessly blends its historic past with its progressive future - all of which will be on full display during your city tour. (B)
Day 15 DEPART ZURICH
After breakfast, bid farewell to Switzerland and prepare for your return flight home. (B)
2022 / 2023 Per Person Cruise Fares
Cruise Departure
Ship:
Piano Deck - Cat E w/window
Piano Deck - Cat D w/window
Violin/Cello Deck - Cat C w/ French balcony aft
Cello Deck - Cat BB w/twin balconies fwd & mid
Violin Deck - Cat BA aft w/twin balconies
Cello Deck - Cat AB w/twin balconies
Violinr Deck - Cat AA w/twin balconies
Violin Deck - Suite w/twin balconies
Luxembourg to Basel
10-May-22
AmaPrima
$3,799
$4,098
$4,898
$5,498
$5,598
$5,898
$6,098
$7,398
21-Jun-22
AmaCerta
$3,899
$4,198
$4,998
$5,598
$5,698
$5,998
$6,198
$7,498
19-Jul-22
AmaPrima
$3,899
$4,198
$4,998
$5,598
$5,698
$5,998
$6,198
$7,498
30-Aug-22
AmaCerta
$4,099
$4,398
$5,198
$5,798
$5,898
$6,198
$6,398
$7,698
27-Sep-22
AmaPrima
$4,199
$4,498
$5,298
$5,898
$5,998
$6,298
$6,498
$7,798
18-Oct-22
AmaCerta
$3,899
$4,198
$4,998
$5,598
$5,698
$5,998
$6,198
$7,498
15-Nov-22
AmaPrima
$3,199
$3,498
$4,298
$4,898
$4,998
$5,298
$5,498
$6,798
18-Apr-23
AmaPrima
$3,399
$3,698
$4,498
$5,098
$5,298
$5,498
$5,698
$6,998
30-May-23
AmaCerto
$3,899
$4,198
$4,998
$5,598
$5,798
$5,998
$6,198
$7,498
11-Jul-23
AmaPrima
$3,899
$4,198
$4,998
$5,598
$5,798
$5,998
$6,198
$7,498
8-Aug-23
AmaCerto
$3,899
$4,198
$4,998
$5,598
$5,798
$5,998
$6,198
$7,498
12-Sep-23
AmaPrima
$4,199
$4,498
$5,298
$5,898
$6,098
$6,298
$6,498
$7,798
17-Oct-23
AmaCerto
$3,899
$4,198
$4,998
$5,598
$5,798
$5,998
$6,198
$7,498
14-Nov-23
AmaPrima
$3,399
$3,698
$4,498
$5,098
$5,298
$5,498
$5,698
$6,998
PORT FEES OF $210 for 2022 / 2023
4 Night land program in Switzerland - $1600 per person for 2022 / 2023
3 Night land program in Paris - $1500 per person for 2022 / 2023

Rates include: standard or SLIDING GLASS DOOR OR BALCONY CABIN, excursions, free internet, and wine with dinner