AROSA
Vienna to Vienna-
7 night Danube River Cruise
DAY 1: Vienna (Embarkation)
There is simply nowhere like Vienna. Rich in culture, gastronomy and good looks, this grand city is wonderful at any time of year. Picture Baroque palaces, enormous beautifully-tended gardens hidden behind unassuming facades, the grandest of coffee houses where you can practically sense the historic figures of yesteryear putting their heads together. From Freud to Klimt, Beethoven to Strauss, this intellectual and musical juggernaut will undoubtedly be one of the highlights of your Danube cruise. And that's without even mentioning the famous Sachertorte…
An overnight stay here in the city will be one of the main highlights of your Danube Classics river cruise. You may decide to put on the glad rags and head out for a classical music concert. Schoenbrunn's is particularly impressive. But whatever you choose to do, you can enjoy in the knowledge your stylish and comfortable A-Rosa ship is waiting for you back in port.
DAY 2: Vienna
There is simply nowhere like Vienna. Rich in culture, gastronomy and good looks, this grand city is wonderful at any time of year. Picture Baroque palaces, enormous beautifully-tended gardens hidden behind unassuming facades, the grandest of coffee houses where you can practically sense the historic figures of yesteryear putting their heads together. From Freud to Klimt, Beethoven to Strauss, this intellectual and musical juggernaut will undoubtedly be one of the highlights of your Danube cruise. And that's without even mentioning the famous Sachertorte…
DAY 3: Esztergom - Budapest
Surrounded by rural countryside on this picturesque stretch of the River Danube, the first thing you'll see as you approach Esztergom is the enormous basilica that crowns this pretty town. With an impressive history stretching back to the birth of the nation's first king, St Stephen, in 975, Esztergom has been the seat of Roman Catholicism in Hungary for over 1,000 years. A wander around town is testament to Esztergom's illustrious past. Prepare to be dumbfounded up close by the scale of Esztergom Basilica with its monumental 118-metre dome, dig into the past at Esztergom Castle where continuous excavations since the 1930 have uncovered a treasure trove of Romanesque, Gothic, Renaissance and Ottoman styles, and head to the central plaza, the town's Medieval marketplace walled with baroque, Rococo and Neoclassical buildings.
As views from the river go, Budapest is pretty hard to beat. Straddling both sides of the water, the 'Pearl of the Danube' is chock-full of grand imperial buildings, dramatic history and contrasting scenery. On the Buda side of the Danube, you'll discover a landscape of rolling hills and gloriously over-the-top buildings, the impressive Hungarian Houses of Parliament amongst them. While over in former Pest, you'll find a more buzzy, bourgeois feel, an eclectic mix of cafes, bars and restaurants perfectly complementing lavish Buda. Besides the good looks, the history books also have a lot to say about this city. While it retains its Golden Age-glamour, its more recent past is everywhere you look too. As you explore the city, you'll find poignant reminders of its place in WWII and the 1956 Uprising including bullet holes and shrapnel marks as well as the moving Shoes on the Danube memorial.
Tonight you'll spend the evening here in Budapest. Why not head out for dinner and explore some of the city's famous gastronomy? With excellent regional wines and cuisine, there's much more to the city than its famous Goulash!
DAY 4: Budapest
On the optional guided tour you experience all the highlights of the "Queen of the Danube". Photograph the millennium monument on Hisök tere (Heroes' Square) in Pest, marvel at the opera, the former stock exchange and the parliament building preserved in neo- Gothic style. Walking in the Buda hills, you see the Matthias Church and visit the Fisherman's Bastion, from where there's a wonderful view over the Danube and the Pest district of the town on the other bank. Light refreshments are included. This fascinating tour is rounded off by a trip to Gellért Hill with its trademark citadel and freedom monument. Optional tour about 3 1/2 hours.
DAY 5: Bratislava
Squeezed snugly between Austria and Hungary, Slovakia's capital Bratislava may be compact, but it packs a punch in history, culture and striking looks. With a location that has carved it out as an ethnic melting pot since ancient times, you can expect to see the influence play out in every corner of the city. Picture a medieval and Gothic old town alive with the sound of different languages and nationalities, grand baroque palaces built by Hungarian nobility and communist-era blocks and unique futuristic bridge reflecting its more recent past. Travel outside of the city, along the banks of the River Danube, and you'll also find the surrounding area is naturally blessed too. Rolling away to the north of Bratislava, you'll discover the excellent vineyards of the Small Carpathians waiting to be discovered.
DAY 6: Krems - Passage Wachau - Melk
Sometimes on a river cruise, it's the unexpected stops that surprise you. And Krems an der Donau may well be just that place. Krems, as it's known to its friends, is a small town that punches well above its weight both culturally and scenically. Time here is best spent meandering the banks of the River Danube, dipping into the story-book perfect churches and museums and sampling the region's world-class Riesling and Grüner Veltliner wines.
As scenic sailing goes, the picture-perfect stretch of Danube river valley between Melk and Krems is pretty hard to beat. Famed for its cute towns dotting verdant landscapes dipping into the River Danube, the Wachau Valley is best enjoyed from the Sun Deck or balcony of your A-ROSA ship. We'll pass through the Wachau Valley in the morning, so put down the book, grab a coffee, and let the scenery unfurl in front of you...
No visit to Melk would be complete without discovering its famous abbey. Set high above the River Danube commanding incredible views across this area's beautiful valleys and Melk's cute cobbled town, Melk Abbey is undoubtedly the star of the show. Inside, you'll find rooms perfectly combining the Baroque and the modern, fascinating artefacts and exhibitions and, the jewel in the crown, the stunning library with intricately frescoed ceiling, spiral staircase and thousands upon thousands of books.
DAY 7: Engelhartzelle
Dubbed the 'Venice of Bavaria', Passau was once thought of as a sleepy backwater. Nowadays, its vibrant student population and handy spot on the Main-Danube Canal have shone the spotlight onto this thriving little city. Expect highlights like Saint Stephen's Cathedral with its magnificent nave. It's one of the largest Baroque cathedrals north of the Alps, and well worth a visit.
DAY 8: Vienna (Disembarkation)
Your cruise comes to an end this morning as you disembark in Vienna after breakfast.
Vienna to Vienna
| | | | | |
| --- | --- | --- | --- | --- |
| Day | Port | Arr | Dep | Comments |
| 1 | Vienna (Austria) | | | Embarkation 2:00pm Overnight Vienna |
| 2 | Vienna (Austria) | | 5:30pm | Optional city tour of Vienna with free time |
| | | | | Optional tour to Schoenbrunn Palace |
| 3 | | | | |
| 3 | Budapest (Hungary) | 12:30pm | | Optional city tour of Budapest with free time |
| 4 | Budapest (Hungary) | | 08:00pm | Optional city tour of Bratislava |
| 5 | Bratislava (Slovakia) | 12:30pm | 06:00pm | Optional city tour of Bratislava |
| 6 | Krems (Austria) | 08:00am | 08:30am | Stop for Melk excursion |
| 6 | Wachau Passage (Austria) | | | All day cruising |
| 6 | Melk (Austria) | 12:30pm | 01:00pm | Pick up passengers in Melk |
| 7 | Engelhartzelle (Austria) | 07:00am | 5:00pm | |
| 6 | Vienna (Austria) | 1:00pm | | Disembarkation |
- subject to changes -


2022 Per Person Cruise Only Fares
Departure
Ship
Cat (S) Deck 1
Back Deck
Cat (A)
Deck 1
Cat (B)
Deck 3
Panoramic Window
Cat (C) Deck 2 French Doors
1-May-22
Arosa Donna
$1,948
$2,208
$2,599
$2,729
8-May-22
Arosa Donna
$1,948
$2,208
$2,599
$2,729
15-May-22
Arosa Donna
$1,948
$2,208
$2,599
$2,729
28-May-22
Arosa Donna
$1,948
$2,208
$2,599
$2,729
29-May-22
Arosa Donna
$1,948
$2,208
$2,599
$2,729
5-Jun-22
Arosa Donna
$1,948
$2,208
$2,599
$2,729
12-Jun-22
Arosa Donna
$1,948
$2,208
$2,599
$2,729
REGULAR Rate includes: cruise and port taxes, listed INCLUDED excursions, and a beverage package - Soft Drinks, as well as tea and coffee specialties, Beer, sparkling white wine, Cremant and Prosecco (in a glass), as well as open wines and daily recommendations from the wine menu (by the glass), Cocktails and long drinks throughout the day and evening. Sightseeing excursions are not included and can be booked onboard.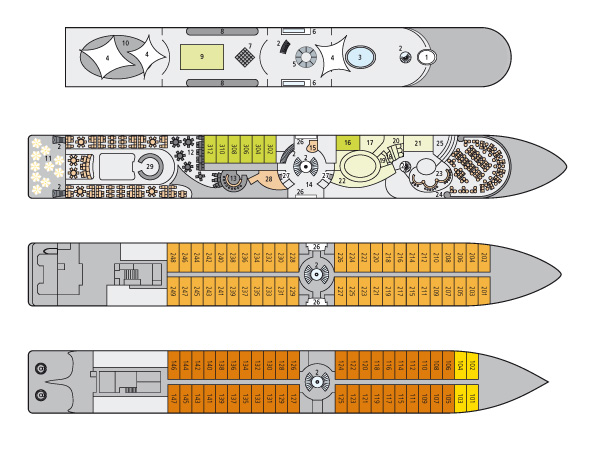 Deck 3
Cabins are Cat B with
panorama windows
Deck 2
Cabins are Cat C with
French doors
Deck 1
4 front cabins
are Cat S
Other cabins are Cat A
4 Deck Ship
Deck 4
Deck 3
Green Cabins are Cat D with
French doors, Lite blue is Jr Suite with French Doors and Dark blue are suites with balconies
Deck 2
Cabins are Cat C with
French doors
Deck 1
2 yellow cabins
are Cat S
Other cabins are Cat A