AROSA
Vienna to Vienna-
5 night Danube River Cruise
DAY 1: Vienna (Embarkation)
Vienna, the capital of Austria, is known as the city on the blue Danube, but today the main river is actually detached from the inner city and only the Danube Channel runs through the city. Vienna is still one of Europe's most seductive cities, however, and is worth a visit not just for its incomparable cultural treasures, the pomp and elegance of former glory, but also for its traditional coffee houses.
DAY 2: Vienna
Vienna has 2 option tours available and you can take them on either days.
DAY 3: Budapest
Budapest once consisted of three parts: Buda, Obuda and Pest. Buda meaning "oven" was the historical upper city with the castle. The part Obuda meaning "old oven" was the part between the hill and the Danube. And Pest on the left-hand side was where most of the population lived. In 1872, these three parts were combined to form a real centre.
DAY 4: Budapest
On the optional guided tour you experience all the highlights of the "Queen of the Danube". Photograph the millennium monument on Hisök tere (Heroes' Square) in Pest, marvel at the opera, the former stock exchange and the parliament building preserved in neo- Gothic style. Walking in the Buda hills, you see the Matthias Church and visit the Fisherman's Bastion, from where there's a wonderful view over the Danube and the Pest district of the town on the other bank. Light refreshments are included. This fascinating tour is rounded off by a trip to Gellért Hill with its trademark citadel and freedom monument. Optional tour about 3 1/2 hours.
DAY 5: Bratislava
Bratislava has been the capital of Slovakia since its independence in 1993. Bratislava was also the capital of Hungary from 1536 to 1784. A visit should begin at the castle, which offers spectacular panoramic views over the "Beauty on the Danube". The Old City presents a fascinating network of attractive squares and winding lanes.
DAY 6: Vienna (Disembarkation)
Your cruise comes to an end this morning as you disembark in Vienna after breakfast.
Vienna to Vienna
| | | | | |
| --- | --- | --- | --- | --- |
| Day | Port | Arr | Dep | Comments |
| 1 | Vienna (Austria) | | | Embarkation 2:00pm Overnight Vienna |
| 2 | Vienna (Austria) | | 8:00pm | Optional city tour of Vienna with free time |
| | | | | Optional tour to Schoenbrunn Palace |
| 3 | Budapest (Hungary) | 12:30pm | | Optional city tour of Budapest with free time |
| 4 | Budapest (Hungary) | | 08:00pm | Optional city tour of Bratislava |
| 5 | Bratislava (Slovakia) | 12:30pm | 23:30pm | Optional city tour of Bratislava |
| 6 | Vienna (Austria) | 8:00am | | Disembarkation 09:00 |
- subject to changes -


2017 Per Person Cruise Only Fares
Departure
Ship
Cat (S) Deck 1
Back Deck
Cat (A)
Deck 1
Cat (B)
Deck 3
Panoramic Window
Cat (C) Deck 2 French Doors
02-Oct-2017
Arosa Donna
$1142
$1338
$1416
$1546
07-Oct-2017*
Arosa Donna
$1039
$1169
$1247
$1299
12-Oct-2017
Arosa Donna
$1039
$1169
$1247
$1299
17-Oct-2017*
Arosa Donna
$1039
$1169
$1247
$1299
22-Oct-2017
Arosa Donna
$1039
$1169
$1247
$1299
* N0 Single Supplement
REGULAR Rate includes: cruise and port taxes, listed INCLUDED excursions, and a beverage package - Soft Drinks, as well as tea and coffee specialties, Beer, sparkling white wine, Cremant and Prosecco (in a glass), as well as open wines and daily recommendations from the wine menu (by the glass), Cocktails and long drinks throughout the day and evening. Sightseeing excursions are not included and can be booked onboard.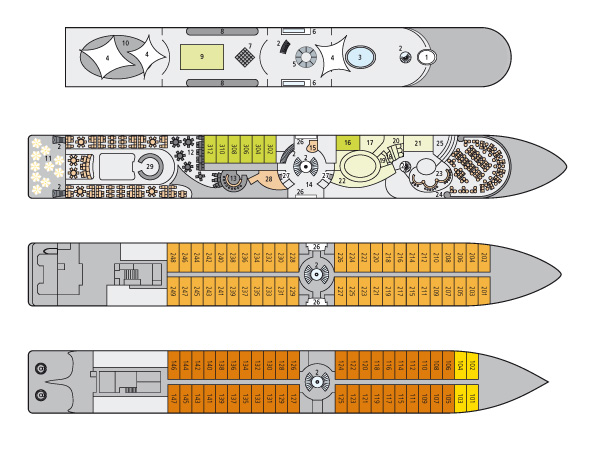 Deck 3
Cabins are Cat B with
panorama windows
Deck 2
Cabins are Cat C with
French doors
Deck 1
4 front cabins
are Cat S
Other cabins are Cat A
4 Deck Ship
Deck 4
Deck 3
Green Cabins are Cat D with
French doors, Lite blue is Jr Suite with French Doors and Dark blue are suites with balconies
Deck 2
Cabins are Cat C with
French doors
Deck 1
2 yellow cabins
are Cat S
Other cabins are Cat A