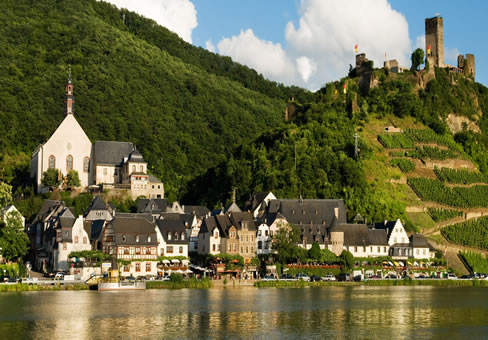 Barge and River Cruises With No Or Low Single Supplement Fees


We are delighted to be able to offer no or low single supplements on a selection of itineraries,
on specified departure dates, ensuring that the solo traveller does not miss out.
River cruise itineraries include voyages through countries like Germany, Austria, Switzerland, Belgium, France, Netherlands, Hungary, Czech Republic, Italy, and more without the usual inconveniences of packing and unpacking. The "Floating Hotels" cruise by beautiful cities, villages, castles and vineyards. On the Rhine, a variety of itineraries depart from Amsterdam, Mainz and Basel. On the Danube, voyages depart from Passau, Germany (near Munich), and cruise to the Austrian and Hungarian capitals of Vienna and Budapest. In Italy, we offer round trip cruises out of romantic Venice visiting fascinating cities like Verona, Ferrara, and Parma. On the Rhone, ships sail round-trip from Lyon, France to the Burgundy and Beaujolais wine regions and the Mediterranean style cities of Avignon and Arles as well as one-way between Lyon and Avignon.
River cruises in comparison to barge cruises are different in that they cruise the rivers of Europe rather than the small canals. The ships are larger and hold from 80 to 200+ passengers. You will often find a swimming pool, beauty salon, gift shop, dancing and entertainment on board where you will not on the barge cruises.
In contrast, where the smaller barges include shore excursions, have bicycles for guests and often have open bar, the river cruises do not have an open bar policy, bicycles, and most do not include shore excursions.
Key Benefits
All-inclusive price: Meals; coffee and tea included
Your travelers unpack only once
See areas that are not covered by other motor coach tours
No Single Supplement or Cruises with low Single's Rates

How to use this chart:
Column 1 is the ship name - click on the name to get ship details and pictures
Column 2 is the itinerary - click on itinerary and you will be taken to a chart listing a week by week detail of where the ship cruises.

Column 4 is the number of nights
Column 4 is the rates
Column 5 is the Booking Deadline
Single supplement waived on these select 2017 European river cruise departures*
Cruise Line

Cruise Itinerary

Nights

Rates From

Booking Deadline

RIVER CRUISES

Paris and Normandy
July 6, 13; Aug 10, 17, 31; Sep 14; Oct 5, 12, 26;
Nov 2, 9, 2017


Category D and E

7

$3099

The Romantic Danube
July 24, 31; Oct 25; Nov 1, 6, 8, 13, 15, 20, 22;
Dec 25, 2017

Category D and E

7

$2799

7

$3099

Arosa Viva or Flora
8 days
174 pax

7 Night North Rhine Cruises
Aug 8, Oct 3

7 Night South Rhine Cruises
Oct 10


7

$1762

Until Departure

5 Night Rhine North
Cologne, Antwerp, Brussels, Amsterdam, Dusseldorf, Cologne
Oct 9

5

$1027

Until Departure

Arosa Viva or Flora

5 Night Rhine South
Cologne, Koblenz, Mannheim/Speyer, Strasbourg, Mainz, Cologne
Oct 17

5

$1027

Until Departure

Southern Provence
Aug 8


7

$2028

Until Departure

5 Night Rhone
Oct 29; Nov 3, 8

5

$980

Until Departure

Rhone River
Sep 12; Oct 3, 10, 17



7

$1538

Until Departure

Arosa

Arosa Silva
8 days
242 pax

Danube Classic on the Silva
Passau, Vienna, Budapest, Bratislava, Passau
Oct 10, 17, 24, 31; Nov 7



7

$1468

Until Departure

BARGE CRUISES

Barge Cruise
Canal du Midi itinerary

Beziers, Capestang, Le Somail, Homps, Marseillette, Trebes, Beziers
Jun 25; Jul 9, 30; Aug 6; Sep 17; Oct 15


6


$5190

all inclusive

Burgundy itinerary:
Dijon, Fleurey sur Ouche, Gissey sur Ouche, La Bussiere, Vrugey, Escommes,Dijon

Jun18, 25; Jul 30; Aug 6, 27; Sep 10; Oct 1

6

$5690

all inclusive

La Bella Vita
20 pax

Venice and Lagoon itinerary
Venice, San Pietro, Adria, Bussari,
Trevenzuolo, Mantua, Venice
Jul 9; Aug 20;
Sep 17
individual Barge brochure


6

$3890

all inclusive

Nivernais Canal
Auxerre, Vincelles , Vermenton, Mailly le Chateau, Lucy Sur Yonne, Clamecy, Paris

2 single cabins

6

$$4700

Until Departure

Casual Bike and Barge Cruise
Provence France between
Avignon and Aigues Mortes

2 Single Cabins

7

$1790

Until Departure
No Single Supplement Cabins are Capacity Controlled.
---