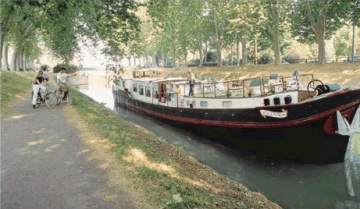 ROSA
GASCOYNY ITINERARY
TOULOUSE TO AGEN
Sunday, Day 1 TOULOUSE TO MONTAUBAN
Guests are met by the captain at 4.00pm at a designated hotel in Toulouse and transferred by air-conditioned minibus to Rosa, moored in the Port of Montauban. Following a Champagne Welcome, there is time for a tour of this beautiful old town set on the banks of the River Tarn, before returning for your first dinner aboard.
Monday, Day 2 MONTAUBAN TO MONTECH
This morning Rosa meanders up the flight of ten locks on the beautiful, recently restored branch canal skirting the Forest of Agre and moors in the heart of the little town of Montech. In the afternoon we head into the Côtes du Frontonnais wine region in the minibus, for a tasting of the outstanding cuvee 'Optimum' at the renowned Chateau Bellevue la Foret. Return to the barge and try your hand at a game of Boules on the quay this evening before dinner on board.
Tuesday, Day 3 MONTECH TO CASTELSARRASIN
We awake to the bustle of the weekly market in the cosy centre of Montech and after accompanying the barge's chef around the stalls in the half-timbered streets, we negotiate the remarkable inclined Water Plane. This amazing feat of engineering by-passes five locks and lowers the barge 43 feet all in one go! Later, we arrive in Castelsarrasin and after a short drive to the Ferme des Jauberts at Angeville we can tour and taste the foie gras of Eric Couderc with some fine local Armagnac. Dinner on board
Wednesday, Day 4 CASTELSARRASIN TO MOISSAC
After breakfast, we cross the River Tarn via a 1000 foot long aqueduct to descend towards Moissac through a staircase of delightful locks and moor for lunch on the River Tarn below the old watermill. Then we may cruise downstream to St. Nicolas de la Grave for an afternoon's swimming or canoeing, or alternatively, we can visit Moissac's 7th century Abbey with its wonderfully preserved cloisters and chapel. This evening we stroll ashore, to savour regional specialties at the acclaimed restaurant 'Le Pont Napoleon', where celebrated TV chef Rick Stein once cooked Tarn-caught pike for the BBC TV series portraying his cruise aboard Rosa
Thursday, Day 5 MOISSAC TO VALENCE D'AGEN
Today the Rosa rises up from the Tarn and turns West on the brick-lined canal through Moissac. After negotiating the swing bridge, we cruise between the placidly flowing waters of the Garonne and the foothills of the Quercy massif, before mooring at Pommevic. After lunch we drive to Auvillar, a 15th century village famous for its pottery and perched high on the side of a gorge above the River Garonne. Return to Rosa and cruise to Valence d'Agen and a tour of this old "Bastide" town with its Palladian canal side public wash-house and arcaded market place. Dinner on board.
Friday, Day 6 VALENCE D'AGEN TO SERIGNAC TO AGEN
A morning cruise through the bucolic countryside to Lamagistère. From here we can travel the ten minutes by cycle or minibus to Donzac and its Conservatoire of traditional trades, where we step back in time to see the extensive exhibition of rural life, before returning to Rosa for a leisurely cruise to the historic town of Agen. After lunch, we visit Chateau du Frandat for private tastings of their esteemed Armagnac and Floc du Gascogne and Buzet wines in delightful surroundings. Captains Farewell Dinner on board
Saturday, Day 7 AGEN
After breakfast, guests disembark the barge and transfer to Toulouse for approximately 11am.
NOTE: On alternate weeks, cruise will be in reverse direction. This is a sample itinerary and is subject to change.
2022 Rates
Rosa
Accommodations
Rate Type
Rate Amount
Stateroom per person
Value
4850
Single supplement
Value
1800
Stateroom per person
Regular
5590
Single supplement
Regular
2050
Charter 6 passengers wholeboat
Value
33200
Charter 6 passengers wholeboat
Regular
38400
Charter 7 passengers wholeboat
Value
34500
Charter 7 passengers wholeboat
Regular
39900
Charter 8 passengers wholeboat
Value
35800
Charter 8 passengers wholeboat
Regular
41400
| Departure Dates (Sunday) | Rate Type | Route |
| --- | --- | --- |
| Apr 10, 17, 24 | Value | Gascony |
| Ag 28 | Regular | Gascony/Bordeaux |
| Sep 4, 11 | Regular | Gascony |
| Oct 9, 16, 23 | Value | Gascony/Bordeaux |
| Jun 5, 12, 19, 26; Jul 3, 10 | Regular | Gascony |
| Jul 31; Aug 7 | Value | Gascony |
| Jul 17, 24 | Value | Gascony/Bordeaux |
| Sep 18, 25; Oct 2 | Regular | Gascony/Bordeaux |
| Aug 14, 21 | Value | Gascony/Bordeaux |
| May 1, 8, 15, 22, 29 | Regular | Gascony |
2023 Rates
There are no rate records in the database for this ship: Rosa
There are no departure date records in the database for this ship: Rosa
Meeting Point:

Toulous - Hotel Pullman Toulouse Centre - Sunday 4 p.m.
-Individual Bookings: Child 12 to 17 years traveling with an adult $300 reduction
Charter bookings: Child reduction of $300 applicable for all children aged 0-17 years.
-All cruises require a minimum of 2 passengers to guarantee departures.
-Golf Cruises: are available for charter groups at a supplement of $300 per person. Please contact us for itinerary.
-Family Cruises are available for charter groups. Please contact us for itinerary. No supplement applies.