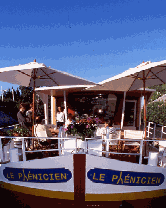 le Phenicien
Southern France Wine Cruise
PROVENCE AND THE CAMARGUE
le Phenicien
Wine tasting cruise
discover the secrets of wine tasting and wine making
Five outstanding excursions to discover the wine including the following program:
Introduction to the selected "appellations" among the best in Provence
Introduction to wine tasting
Introduction to the wine making sciences and secrets
6 wineries visited
Farewell dinner with special animations about the wine
A wine specialist takes care of you all over the cruise.
This program is not a simple assembling of guided tours, this is a full introduction to the world of wine: In each vinery we will point out a specific aspect of the wine culture (tasting, wine making, vine culture,…)

Detailed sample program :
Day 1 – Sunday
Transfer from a defined picking point to Le Phénicien which is moored close to the Avignon ramparts. Time for a little nap or a free visit of the town. Our first dinner on board gives an indication of the high standard of cuisine that will be served during the cruise and the accompanying wines have been specially chosen from top-notch local vineyards.
Day 2 – Monday
Prestige and tradition in Châteauneuf du Pape
Here the terroir is very special because of the rocks rolled by the Rhône river over the centuries that store the heat during daytime and release it back to the grapes at night. Vines were cultivated here since the XII century by the Templiers and the Popes raised this culture to the highest levels.
You will start this tour by a nice walk within the vineyards. You will then discover the 13 grapes varieties used in Châteuneuf du Pape and know some secrets of one of the best French wines. As well you will be introduced to the history and specificities of the various wines in Provence.
In one of the most famous vineries here the participants will then learn the basics of wine tasting around some typical wines of the appellation.
Your tongue and pallet will be charmed by the whites before the reds achieve to convince. Then a vertical tasting session of the red wines of the vinery is proposed: year 89, 95 and 2000 for instance.
This afternoon, we sail down to Vallabrègues, a quiet and charming little port where it is good to rest and play the pétanque. The wines tasted in the morning are back on the table at dinner.
Day 3 – Tuesday
The Magic of Les Baux de Provence
Today we stay with the wines of Provence in Les Baux de Provence, this medieval village is today a regional spot for biodynamic cultures. Our theme today is the vine culture.
The natural site of Les Baux is well known as the most typical of Provence.
Through the Alpilles, this protected little mountains chain, the participants will be introduced to a very special culture method called "biodynamics" and the related wines.
Two vineries will be visited :
The first one is close to St Rémy de Provence in the appellation "Côteaux d'Aix": Le Domaine D'Eole is a recent vinery but yet famous for its wonderful wines.
The second one that will close our tour today is a magical and inevitable vinery: Le Château Romanin welcomes you in its cathedral style cellar.
After lunch we cruise down to Arles. Thanks to its wealth of Roman and mediaeval monuments, many of which are classified world heritage sites by UNESCO, the city could be called an open-air museum.
Day 4 – Wednesday
Let's discover the grapes varieties in the "Pays d'Arles "
In a vinery where passion meets originality, le Mas de Rey, you will today learn more about the secrets of grapes varieties and wine making.
Since two generations, the Mazzoleni family tends to excellence. Today their vins de pays can be compared to many AOC.
Their secret? Simply their will to elaborate joyful, original, healthy and well structured wines. Whites, rosés and reds are recognizable at the first smell!
The personality of these wines rests on a very specific grapes varieties selection. Together with the traditional grenache, syrah, mourvèdre, merlot, cabernet-franc, can also be found here 4 new grapes varieties born from a close cooperation with INRA.
And so to the Camargue as we head west on the Canal du Rhône à Sète that links the Petit Rhône with the étangs, those inland seas that nudge the Med to the south of Montpellier. We moor in Bellegarde, a typical village proud of its bull fights traditions.
Day 5 – Thursday
Back in old times…
Le Mas des Tourelles: located on an old archeological roman site from the 1st and 2nd centuries, this vinery shows the first worldwide reconstitution of a Gallo-Roman cellar at normal scale and actually used to make wine once a year. Here scientists work as well on the roman wine making techniques. Thanks to a roman wines tasting session you will learn about the very remote history of wine.
This afternoon we navigate on the canal down to Saint Gilles, a city famous in the middle age for its Christian pilgrimages.
Day 6 – Friday
Sea, wine and sun…
Our final destination is Aigues-Mortes, a 14th century walled city rising from a flat landscape. This was the port from which St Louis set sail on his Crusades and it welcomes us for our last day.
In the deep heart of the Camargue, such a unique and protected natural space in France where sea and land just make one, you will discover a very nice and particular wine: les vins de Pays des Sables du Golfe du Lion.
In the vinery Le Domaine de Jarras you will be introduced to rosés and whites as a splendid Chardonnay born between sea and marshes, next to the black bulls, white horses and pink flamingoes.
Aperitif and special evening « Provence in your glass »
Back on board you will participate to an original and funny party where wine is your special guest! « la Provence dans le Verre ».
At dinner 4 typical wines of Provence will be introduced through games/tasting sessions (wines are selected for their typical features and famous reputation and in accordance with the meals served).
Around Casino gambling games, each wine will be a subject for questions regarding its taste or generally speaking the wine culture.
The results are given at the end of the party around some liquors of Provence and each member of the winning team gets a bottle as a reward!
Surprise game:
Then a question will be asked to all the participants who will play individually and the winner will get a Magnum of wine! Cheers!
Day 7 – Saturday
After breakfast, morning departure to the defined transfer point.
Glossary:
Appellation: generic name given to wine made in a same area - i.e. Côtes du Rhône, Châteauneuf du Pape.
AOC: stands for Appellation d'Origine Contrôlée: highest ranking in French wines. Defines a set of rules any producer has to comply with. AOC is mentioned on the label.
INRA: stands for Institut National de la Recherche Agronomique. National research center in agriculture, the heart of the French research in agriculture.
Terroir: a mix of geographical, historical, geological and weather conditions of the vineyards soil.
2022 Rates
Le Phenicien
Accommodations
Rate Type
Rate Amount
Stateroom per person
Regular
4750
Charter 18 passengers wholeboat
Regular
77985
Single supplement
Regular
2010
Charter 18 passengers wholeboat
Mid
69325
Single supplement
Mid
1500
Charter 17 passengers wholeboat
Regular
75520
Stateroom per person
Mid
4380
Charter 17 passengers wholeboat
Mid
66855
Charter 17 passengers wholeboat
Value
59415
Charter 18 passengers wholeboat
Value
61890
Single supplement
Value
1470
Stateroom per person
Value
3820
There are no departure date records in the database for this ship: Le Phenicien
2023 Rates
There are no rate records in the database for this ship: Le Phenicien
There are no departure date records in the database for this ship: Le Phenicien
Meeting Points
Aignes Mortes to Avignon
1/ TGV train station
Nimes TGV: pick up time 16:45
Avignon TGV: drop off time 09:00
2/ Hotel
Nimes: Hotel Vatel - http://www.hotelvatel.com/
Pick up: 17:00
Avignon: La Magnaneraie - http://www.hostellerie-la-magnaneraie.com/
Drop off: 9:30
Avignon to Aignes Mortes
1/ TGV train station
Avignon TGV: pick up time 16:45
Nimes TGV: drop off time 09:00
2/ Hotel
Avignon: La Magnaneraie - http://www.hostellerie-la-magnaneraie.com/
Pick up: 17:00
Nimes: Hotel Vatel - http://www.hotelvatel.com/
Drop off: 9:00
- Golf Cruises are available for charter groups at a supplement of $910 per person. Please contact us for itinerary. (non golfers in the group do not pay supplement)
- *Wine Appreciation Cruises are available for charter groups at a supplement $740 per person. A minimum base of 9 passengers is required Please contact us for itinerary.
- *Cooking Cruises are available for charter groups at a supplement $970 per person. A minimum base of 9 passengers is required Please contact us for itinerary. Avignon to Aigues-Mortes direction only. Maximum 15 passengers.