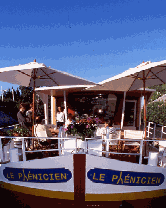 le Phenicien

We could talk about the great standard of comfort that you can find on board "LE PHENICIEN" but no explanation and no picture is relevant enough to make you feel the peculiar atmosphere of this vessel. This is worth a visit. The real issue is: why is "LE PHENICIEN" so different ?


* Unique 1000 square feet covered main deck

* 9 cabins gathered in 3 separated cells

* Environment friendly construction

* Captain bridge at the front of the boat


In cruising configuration, you can have a drink at the bar or take a comfortable seat at the lounges and relax with friends, play chess, read a book, listen to music, do nothing else but enjoy the sight through the large windows. Would the weather be nice enough for you ? Move to the sun deck and get a little tan. Would it be too hot? Stay inside and enjoy the air-conditioning. Would it be too cold or rainy (very seldom but?) enjoy the central heating in your cabin or in the vast lounges of the main deck.
Thanks to its peculiar "Double Decker" design and its great level of comfort, "LE PHENICIEN" is definitely the best place to organize any kind of seminar, VIP or customer event, training session, motivation or incentive program or other business event.

Do you need a high level of intimacy? No standard hotel could provide an equivalent level of privacy and comfort than a barge navigating along the peaceful inland waterways. Do you need a strong "immersion" effect ? (in the figurative sense...), nothing will fit better than "LE PHENICIEN". The unique pleasure of the cruise in addition.

As mentioned above, the design of the boat "LE PHENICIEN" fits exactly the business tourism requirements:

The lower deck is dedicated to the accommodation.

The main deck is separated in 4 areas.

At the back, the crew apartments, the kitchens and the main lavatories. Then the Bar-Restaurant where you will have your meals or take a drink with other passengers.

Next to the restaurant but separated by movable panels, is available a vast lounge changed into a seminar room when required.

At the front, you can find the sun deck, the best place to make a break and enjoy the mild climate of the region.

All additional materials and equipment required for your event can be supplied upon request (as screens, boards, video equipment, sound systems, etc.).

The organization of the cruise itself is very similar to the standard cruise. However, in business configuration different formats are proposed from 2 days, which is the very minimum to appreciate the cruise-- to one week. Of course, the whole boat is booked for the period (Charter reservation). The boat can host from 9 persons in single accommodation and up to 18 persons in double.


FEATURES
* 18 Passengers; 6 double cabins and 3 twin cabins (107 sq. ft.)
Cabins 1,2,3, 7, 8, 9 are queen-bedded cabins. Each bed is 150 cm (59 inches) wide and 190 cm (75 inches) long.
Cabins 4 to 6 are twin-bedded cabins. Each bed is 90 cm (35.5 inches) wide and 190 cm (75 inches) long. Mattresses height is 18 cm (7 inches). * Central air heat
* Handicap Access - NO
*Length: 127 feet
*Beam: 16 feet 7 inches
*Height: 16 feet 5 inches
*Ceiling height: 7 feet 5 inches
*Cruising weight: 250 tons
2019 Rates
Le Phenicien
Accommodations
Rate Type
Rate Amount
Stateroom per person
Value
3640
Stateroom per person
Regular
4520
Charter 12 or less passengers wholeboat
Value
46370
Stateroom per person
Mid
4170
Charter 12 or less passengers wholeboat
Regular
60145
Charter 13 passengers wholeboat
Value
47160
Charter 13 passengers wholeboat
Mid
54235
Charter 14 passengers wholeboat
Value
49520
Charter 14 passengers wholeboat
Mid
56600
Charter 14 passengers wholeboat
Regular
64860
Charter 15 passengers wholeboat
Value
51890
Charter 15 passengers wholeboat
Mid
58950
Charter 15 passengers wholeboat
Regular
67220
Charter 16 passengers wholeboat
Value
54235
Charter 16 passengers wholeboat
Mid
61305
Charter 16 passengers wholeboat
Regular
69575
Charter 17 passengers wholeboat
Value
56585
Charter 17 passengers wholeboat
Mid
63670
Charter 17 passengers wholeboat
Regular
71925
Charter 18 passengers wholeboat
Value
58945
Charter 18 passengers wholeboat
Mid
66025
Charter 18 passengers wholeboat
Regular
74270
Stateroom per person
Value
3640
Stateroom per person
Mid
4170
Stateroom per person
Regular
4520
Single supplement
Value
1400
Single supplement
Mid
1430
Single supplement
Regular
1920
| Departure Dates (Sunday) | Rate Type | Route |
| --- | --- | --- |
| Aug 25, Sep 1, 8, 15, 22 | Regular | Provence itinerary between Aigues-Mortes and Avignon |
| May 12, 19, 26; Jun 2, 9, 16 | Regular | Provence itinerary between Aigues-Mortes and Avignon |
| Sep 29; Oct 6, 13 | Mid | Provence itinerary between Aigues-Mortes and Avignon |
| Mar 17, 24, 31; Apr 7, 14, 21 | Value | Provence itinerary between Aigues-Mortes and Avignon |
| Jul 14, 21, 28; Aug 4 | Value | Provence itinerary between Aigues-Mortes and Avignon |
| Aug 11, 18 | Mid | Provence itinerary between Aigues-Mortes and Avignon |
| Apr 28; May 5 | Mid | Provence itinerary between Aigues-Mortes and Avignon |
| Oct 20, 27 | Value | Provence itinerary between Aigues-Mortes and Avignon |
| Jun 23, 30; Jul 7 | Mid | Provence itinerary between Aigues-Mortes and Avignon |
2020 Rates
There are no rate records in the database for this ship: Le Phenicien
| Departure Dates (Sunday) | Rate Type | Route |
| --- | --- | --- |
| April 29, March | Value | Provence itinerary between Aigues and Avignon |
| May 3, 10, | Mid | Provence itinerary between Aigues and Avignon |
| July 28 | Mid | Provence itinerary between Avignon - Aigues - |
| June 7, 14, 21 | Regular | Provence itinerary between Aigues-Mortes and Avignon |
| Aug 2, 9 | Value | Provence itinerary between Aigues-Mortes and Avignon |
| Aug 16, 23 | Mid | Provence itinerary between Aigues Mortes and Avignon |
| Apr 12, 26 | Value | Provence itinerary between Avignon - Aigues - |
| May 17,24, 31 | Regular | Provence itinerary between Aigues-Mortes and Avignon |
| July 19, 26 | Mid | Provence itinerary between Aigues-Mortes and Avignon |
| March 15, 22 | Value | Provence itinerary between Aigues-Mortes and Avignon |
| Jul 5, 12 | Mid | Provence itinerary between Aigues-Mortes and Avignon |
| Aug 30 | Regular | Provence itinerary between Avignon - Aigues - |
| Sep 6 | Regular | Provence itinerary between Aigues-Mortes and Avignon |
| Sep 13 | Regular | Provence itinerary between Aigues and Avignon |
| Sep 20, 27 | Regular | Provence itinerary between Aigues and Avignon |
| Oct 4, 11, 18 | Mid | Provence itinerary between Aigues and Avignon |
| Oct 25 | Value | Provence itinerary between Aigues and Avignon |
| Nov 1 | Value | Provence itinerary between Aigues and Avignon |