SHANNON PRINCESS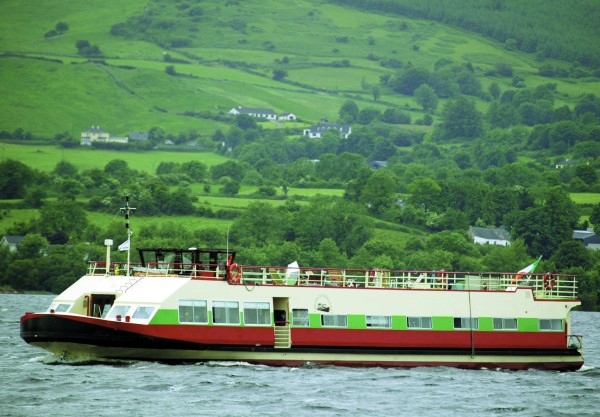 Sunday, Day 1
GLASSON
Transfer from Aberdeen Lodge Hotel in Dublin at 3pm to the barge on Sunday. The transfer will be in the Barge's private coach to the Shannon Princess in Glasson. Family-owned and -managed, Shannon Princess delivers one of the warmest welcomes in European Barging.
We welcome you on board the elegant Shannon Princess with a Champagne Reception. There is time to relax on deck or to mingle and chat with fellow guests & local boat owners. Watch the world float by, as you enjoy your first Gourmet dinner on board.
Monday, Day 2
GLASSON TO ATHLONE
There's time for an early morning stroll through twisting country lanes, before we set out on our cruise on the River Shannon's "Inner Lakes". Soon after arriving in the lively bustling River Town of Athlone,
An Afternoon visit is made to a local Whiskey distillery. Dating from 1757 the Kilbeggan Distillery is the oldest licensed whiskey distillery in the world. On the return journey there is time for a visit to the village of Ballinahown, an Artisan Craft Village.
Explore at your leisure, time for shopping, antiquing or a visit to any of the towns impromptu traditional music pubs- don't forget to return on board for Gourmet Dinner!
Tuesday, Day 3
ATHLONE TO SHANNONBRIDGE
After breakfast, we sail through "The Callows", lush grazing meadows that remain unchanged in over a 1000 years and are now a Wildfowl & Fauna Reserve. We moor below Clonmacnoise ruins for a visit to the ancient burial grounds of the High Kings of Tara & Connaught.
We sail onwards to Shannonbridge and visit a local Apiary, and sample some wild Irish honey and other fresh organic produce at "Meadowsweet Farm" hosted by the owner family. After Dinner, join the Captain for a "Pint" in Killeen's pub for music and chat and past some time with the Locals
Wednesday, Day 4
SHANNONBRIDGE TO TERRYGLASS
A cruise through ever-changing landscape, crumbling ivy covered ruins, medieval garrisons & sleepy market villages.
Shannon Princess arrives at the quaint little village of Terryglass.
We visit Mossfield Organic Farm to sample some of their award winning Cheeses and then to neighbouring "Leap Castle". Reputed to be Ireland's most haunted house Leap Castle was once home to one of America's founding Fathers- John Carroll. You will be hosted by Sean Ryan, a renowned musician and his family who will invites us in to their unusual home.
Thursday, Day 5
TERRYGLASS TO MOUNTSHANNON
Today take a morning excursion to the Walled Kitchen Gardens of Portumna Castle, and onto Galway, a lively Anglo-Norman university town and cultural centre of Irish speaking regions in the west of Ireland. Lunch is at an authentic Guinness & Oyster Bar with time to browse and explore the colourful shops and streets. Return to "Shannon Princess' for Gourmet Dinner as we meander through Lough Derg to Mountshannon – a lovely old estate village perched prettily above the Lough.
After dinner enjoy a moonlit ramble around Mountshannon or Dancing in the local Hotel
Friday, Day 6
MOUNTSHANNON TO KILLALOE
A Cruise through the charming lower stretches of Lough Derg and the River Shannon arriving into the pretty twin towns of Killaloe & Ballina, a prosperous town with art, history and foodie treats.
A Private tour of the Belfry of St. Flannan's Anglican Cathedral will be hosted by the Choir Master.
Then a visit to "Craganowen" a Celtic Bronze Age Settlement, where your guide will interpret and bring to life the "Living Past".
Later in the afternoon we drop in on a "Traditional Irish Hand Weavers" workshop and studio where Guests will experience a step back in time while also learning how these thriving small cottage industries are dealing with technology and the future.
Captains "Farewell" Gourmet Dinner showcasing local produce.
Saturday, Day 7
KILLALOE TO DUBLIN
After breakfast transfer to Dublin Airport or your Hotel
NOTE: The above is a suggested itinerary for our Lough Derg Shannon Cruise. On alternate weeks, cruise will be in reverse direction. This is a sample itinerary and is subject to change.
Special interest cruises such as Golf and Equestrian charters can be accommodated with advance notice. Golf courses include Lahinch, Galway Bay and Glasson.
Shannon Princess can offer golf ?a la carte style? whilst cruising, as it is difficult logistically to combine golfing with the regular cruise. During your cruise your Captain will be pleased to offer golf days and will reserve tee times for you and a taxi to and from the golf clubs. The golf tee times rate and taxi costs should be paid by you to the Golf Club or taxi company on the day. An example of pricing is as follows:
Glasson Golf Course fee approx. ?75 and return taxi ?30
Athlone Golf Course fee approx. ?60 and return taxi ?20
Portumna Golf Court fee approx. ?50 and return taxi ?30
Limerick Golf Club fee approx ?75 and return taxi ?50
If you would like to golf during your cruise please advise our reservations department at least 3 weeks prior to your cruise. Golf tee times are subject to availability.
2018 Rates
Shannon Princess II
Accommodations
Rate Type
Rate Amount
Charter 6 passengers wholeboat
Value
37100
Charter 6 passengers wholeboat
Regular
41400
Charter 8 passengers wholeboat
Regular
44200
Single supplement
Value
1500
Suite per person
Regular
5050
Suite per person
Value
4400
Charter 8 passengers wholeboat
Value
39300
Charter 10 passengers wholeboat
Regular
47000
Charter 10 passengers wholeboat
Value
41500
Single supplement
Regular
1700
| Departure Dates (Sunday) | Rate Type | Route |
| --- | --- | --- |
| May 6, 13, 20, 27; Jun 3, 10, 17, 24 | Regular | Athlone to Killaloe or reverse |
| July 01, 08, 15, 22, 29 | Regular | Athlone to Killaloe or reverse |
| Aug 06, 13, 20, 27; Sep 02, 09, 16, 23 | Regular | Athlone to Killaloe or reverse |
| Apr 22, 29 | Value | Athlone to Killaloe or reverse |
2019 Rates
There are no rate records in the database for this ship: Shannon Princess II
There are no departure date records in the database for this ship: Shannon Princess II
- $800 per person supplement for golf cruises.
Meeting Point
Ireland - Dublin - Aberdeen Lodge Hotel, Upper O'Connell Street, Dublin 1 - Sunday 3 p.m.
Transfer included.