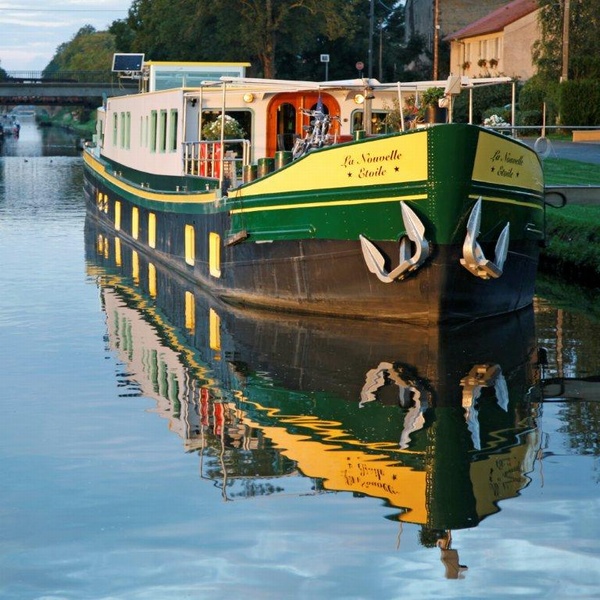 La Nouvelle Etoile Holland Cruise
The La Nouvelle Etoile slowly plies along picturesque inland waterways of Holland, France and Belgium lined with magnificent foliage and speckled with charming towns.
The La Nouvelle Etoile includes a large sun deck with jacuzzi, a main deck with a panoramic lounge, a bar area with piano, a dining room, a fitness room and an elevator. There are 4 oversized suites (over 200 square feet), featuring flat screen monitors with internet connection, satellite television and video, double sink bathrooms with large showers.
Meticulous attention to detail is evident throughout - from the selection of the linens, to the fresh fruit and flowers in each suite. The warm, elegant teak interiors, subtle color schemes and pleasant furnishings invite you to relax and enjoy.
Sunday HAARLEM / ZAANDAM
After your pick-up by our driver you will be taken to the barge moored in the center of Haarlem for a champagne welcome. We will relax for the afternoon with a cruise to Zaandam, where we will moor for the night and you will enjoy your first gourmet dinner on board.
Monday ZAANDAM / AMSTERDAM / OUDERKERK
After an elegant breakfast we will take a short drive to the Zaanse Schans to visit a working windmill, a clog maker and a cheese maker. In the afternoon we will cruise to Amsterdam, through the heart of the city where the small canals and architecture will take you back to a previous century and then along the Amstel River to Ouderkerk.
Tuesday OUDERKERK / AALSMEER / GOUDA
An early rise and drive to the colorful flower auction in Aalsmeer. Upon return we will set off for a cruise on the canals to the cheese Mecca of Gouda. After lunch, we will take a drive out to a local cheese farm. Besides cheese, you will find beautiful buildings, excellent shopping and the most magnificent stained glass windows in Holland.
Wednesday GOUDA / ROTTERDAM
A morning cruise to Rotterdam through the center of this busy port and then onto Delft. Visit the Delft Pottery works, where porcelain is still handmade and painted. Spend the rest of the afternoon strolling around this beautiful ancient Dutch city.
Thursday ROTTERDAM / OUDE WETERING
A morning cruise through the canals past Leiden, across the Brasemmer Lakes to Oude Wetering. Spend the afternoon at the famous Keukenhof Gardens with the largest display of flowers in the world. Here you will see hundreds of varieties of tulips, hyacinths and other beautiful bulbs.
Friday OUDE WETERING / HAARLEM
Morning cruise to Haarlem, a picturesque town and the home of the famous Dutch painter Frans Hals where we will tour its museum. Farewell celebration on board and the last delightful gourmet dinner.
Saturday HAARLEM
This will your last wonderful breakfast on board. You will then be driven to either the airport or your hotel.
LA NOUVELLE ETOILE
2022 Rates
La Nouvelle Etoile
Accommodations
Rate Type
Rate Amount
Single supplement
Regular
4315
Charter 8 passengers wholeboat
Regular
65000
Suite per person
Regular
8630
| Departure Dates (Sunday) | Rate Type | Route |
| --- | --- | --- |
| Aug 28; Sep 04, 11, 18, 25; Oct 02, 09 | Regular | Mosel River - Remich / Koblenz |
| Apr 03,10, 17, 24; May 1, 8 | Regular | Haarlem to Haarlem |
| Jun 05, 12, 19, 26; Jul 03 | Regular | Champagne-Paris/Epernay |
| Jul 24,31; Aug 7, 14, 21 | Regular | Alsace-Lorraine |
2023 Rates
There are no rate records in the database for this ship: La Nouvelle Etoile
There are no departure date records in the database for this ship: La Nouvelle Etoile