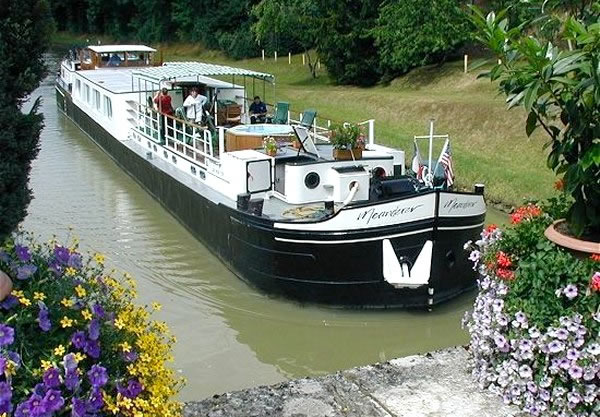 MEANDERER
THE SIX PASSENGER MEANDERER, originally a Belgian "Spitz", was recently converted to her current exacting specification. With three en-suite cabins measuring in excess of 125 square feet each and an outdoor heated spa-pool, she is the perfect vessel for exploring the Upper Loire

Meanderer's Captain, an experienced host and his crew of three ensure the finest of cruises along France's oldest canal, the Briare, opened in 1642

The flexible twin or double bed arrangement and newly decorated, air- conditioned cabins and saloon complement perfectly the spacious sun deck and spa-pool

The Upper Loire region is as rich in legend as it is in beauty. And you will notice that fortunately little has changed over the centuries. Talk to a cheese maker and find out why his is the most famous goat's cheese in France

Wind your way through the narrow streets of a centuries old village, perhaps discovering hidden shops with hand-painted pottery or stumble across an open market on your own


FEATURES
* 6 Passengers; 3 queen or twin bedded (125 sq. ft. +)
* Flat Screen satelite TV with DVD/CD player in each cabin
* a safe in each cabin
* True FREE Wireless internet access throughout the barge
* 5 Crew members
* 1 Deck
* Spa Pool
* Bicycles
* Central air conditioning / heating
* 2 vehicles for transportating guests, which allows for 2 different excursions (within reason)
* Handicap Access - NO
INFORMATION FOR PASSENGERS IF YOU HAVE MOBILITY PROBLEMS? There is a rail on the gangplank from the bank to the deck. There are 4 steps from the deck to the saloon and the stairs is wide enough for 2 people to walk side by side with one person assisting. There are 4 steps from the saloon to the cabin deck, which has a handrail on one side.
2022 Rates
Meanderer
Accommodations
Rate Type
Rate Amount
Stateroom per person
Value
6350
Stateroom per person
Regular
6850
Single supplement
Value
3800
Single supplement
Regular
4200
Charter 6 passengers wholeboat
Value
35850
Charter 6 passengers wholeboat
Regular
37800
Charter 5 passengers wholeboat
Value
35050
Charter 5 passengers wholeboat
Regular
36900
Charter 4 passengers wholeboat
Value
34350
Charter 4 passengers wholeboat
Regular
36100
| Departure Dates (Sunday) | Rate Type | Route |
| --- | --- | --- |
| Apr 24 | Value | Montargis / Sancerre |
| Jul 3, 17, 31; Aug 14, 28 | Regular | Montargis / Sancerre |
| Sep 4, 18; Oct 2 | Regular | Sancerre / Montargis |
| Oct 16 | Value | Sancerre / Montargis |
| May 8, 22; Jun 5, 19 | Regular | Montargis / Sancerre |
| Jul 10, 24; Aug 7, 21 | Regular | Sancerre / Montargis |
| May 1, 15, 29; Jun 12, 26 | Regular | Sancerre / Montargis |
| Sep 11, 25; Oct 9 | Regular | Montargis / Sancerre |
2023 Rates
Meanderer
Accommodations
Rate Type
Rate Amount
Charter 4 passengers wholeboat
Regular
38100
Charter 4 passengers wholeboat
Value
36100
Charter 5 passengers wholeboat
Value
36800
Charter 5 passengers wholeboat
Regular
38900
Charter 6 passengers wholeboat
Value
37500
Charter 6 passengers wholeboat
Regular
39700
| Departure Dates (Sunday) | Rate Type | Route |
| --- | --- | --- |
| May 7, 21; Jun 4, 18 | Regular | Montargis / Sancerre |
| Apr 23 | Value | Montargis / Sancerre |
| Sep 3, 17; Oct 1 | Regular | Sancerre/Montargis |
| Jul 2, 16, 30; Aug 13, 27 | Regular | Montargis / Sancerre |
| Sep 10, 24; Oct 8 | Regular | Montargis / Sancerre |
| Oct 15 | Value | Sancerre/Montargis |
| Apr 30; May 14, 28; Jun 11, 25 | Regular | Sancerre/Montargis |
| Jul 23; Aug 6, 20 | Regular | Sancerre/Montargis |