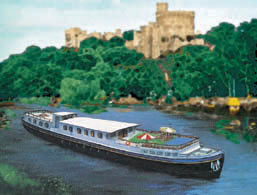 MAGNA CARTA
RIVER THAMES ITINERARY
Featuring a visit to
Downton Abbey's Highclere Castle
Hampton Court to Oxford on England's Royal River
Day 1 London to Hampton Court Palace
Meet the Captain or a crewmember at the Stafford Hotel in London at 3pm for afternoon English Cream Tea, before being transferred at 4pm to the Magna Carta. Champagne reception and welcome moored outside Hampton Court, former Tudor Palace of Henry VIII, where we remain overnight. Dinner aboard.
Day 2 Hampton Court Palace to Shepperton
This morning we have ample time to really explore Hampton Court Palace, the most fabulous Tudor home, once belonging to Cardinal Wolsey until acquired by Henry VIII! We walk through Henry's great hall and haunted gallery and see his chapel, still used for worship today and with the finest Tudor ceiling in existence. There is much more to see including the stunning privy gardens, the oldest growing grape vine and the famous maze! After lunch we enjoy our first cruise, up through Molesey Lock and following the meandering path of the river through Sunbury to our overnight mooring on Shepperton Lock. Dinner aboard.
Day 3 Shepperton to Windsor
This morning we cruise to Windsor before enjoying lunch on board. Our river journey takes us through Chertsey, past Penton Hook Marina and Bell Weir Lock through Runnymede where King John faced the barons in 1215 and was forced to put his seal on the Magna Carta, the document which was the very first Bill of Rights and from which our vessel takes its name. From the boat we see the Magna Carta memorial and Magna Carta Island where the sealing took place. Our afternoon excursion is to Windsor Castle. Built by William the Conqueror in 1066 and lived in for over 900 years by the Royal Family. This is the largest inhabited castle in the world. We explore the State Apartments, See Queen Mary's Dolls House and St George's Chapel and enjoy the far-reaching views from its elevated fortress position. Dinner aboard.
Day 4 Windsor to Cliveden
After breakfast we are driven to Highclere Castle (Downton Abbey) Highclere Castle is one of England's most beautiful Victorian Castles set amidst 1,000 acres of spectacular parkland. The Carnarvon family has lived at Highclere since 1679, and the current Castle stands on the site of an earlier house, which in turn was built on the foundations of the medieval palace owned by the Bishops of Winchester for some 800 years. Longstanding friend of the Carnarvon family, Julian Fellowes had Highclere Castle in mind as he wrote Downton Abbey. He often commented he wanted a house which spectacularly testified to the confidence and soaring optimism of the Edwardian period. As lunch commences on board we start cruising up to Boveney Lock, continue past the fabulous waterside homes of Bray and Maidenhead, Boulters Lock (made famous in Victorian times) and into the spectacular Cliveden reach where we have special permission to moor at the house itself. Dinner aboard.
Day 5 Cliveden to Hurley.
After breakfast we visit the little village of Cookham. Cookham ,was once described as 'Heaven on Earth' by artist Sir Stanley Spencer, one of England's greatest and most eccentric painters. Much of his work was painted in and around Cookham. We visit his gallery whilst in Cookham. We then return to Cliveden for our tour there. Cliveden was once owned by the Astor family, though the original house dates back to 1666. The gardens are simply amazing and include a Parterre, Chinese water garden and topiary. We discuss the political intrigue and scandal for which Cliveden is famous!! On your return you will be served a lovely lunch and we start cruising through Bourne End and Marlow to Hurley. Once we are moored up for the night we have time to explore the ancient 11th century village including Ye Olde Belle, reputed to be the oldest inn in the country before returning to the barge. Dinner aboard.
Day 6 Hurley to Henley on Thames and Oxford
We start our last day with an early morning tour of Peter Freebody's boatyard and watch in wonder at the traditional craftsman at work, building and restoring wooden boats as they have been done for generations. We continue the day with a morning cruise to Henley on Thames through fabulous countryside to our final mooring Remenham, a small village along the famous Henley Regatta Rowing Course. An earlier lunch followed by a 40 minute drive to Oxford. A fascinating tour of Christ Church, Oxford's grandest college, founded twice, once by Cardinal Wolsey and then by King Henry VIII. The magnificent surroundings in which Lewis Carrol wrote Alice in Wonderland. For our final night we enjoy the Captains Farewell Dinner aboard.
Day 7 Henley to London
Following breakfast, disembark at 9.30am and return to London or Heathrow Airport.


NOTE: On alternate weeks, cruise will be in reverse direction. This is a sample itinerary and is subject to change.
2022 Rates
Magna Carta
Accommodations
Rate Type
Rate Amount
Suite per person
Value
4890
Single supplement
Value
1550
Suite per person
Regular
5850
Single supplement
Regular
1800
Charter 7 passengers wholeboat
Value
34600
Charter 7 passengers wholeboat
Regular
40900
Charter 8 passengers wholeboat
Value
36000
Charter 8 passengers wholeboat
Regular
42500
Charter 6 passengers wholeboat
Regular
39300
Charter 6 passengers wholeboat
Value
33200
| Departure Dates (Sunday) | Rate Type | Route |
| --- | --- | --- |
| May 01, 08, 15, 22, 29 | Regular | Thames River |
| Jun 05, 12, 19, 26 | Regular | Thames River |
| Apr 24 | Regular | Thames River |
| Apr 03, 10, 17 | Value | Thames River |
| Jul 03, 10, 17, 24, 31 | Regular | Thames River |
| Aug 07, 14, 21, 26 | Regular | Thames River |
| Sep 04, 11, 18, 25 | Regular | Thames River |
| Oct 02, 09, 16, 23 | Value | Thames River |
2023 Rates
Magna Carta
Accommodations
Rate Type
Rate Amount
Charter 6 passengers wholeboat
Regular
41600
Charter 6 passengers wholeboat
Value
35200
Charter 7 passengers wholeboat
Regular
43300
Charter 8 passengers wholeboat
Regular
45000
Charter 8 passengers wholeboat
Value
38200
Single supplement
Regular
1900
Single supplement
Value
1650
Suite per person
Regular
6190
Suite per person
Value
5190
| Departure Dates (Sunday) | Rate Type | Route |
| --- | --- | --- |
| Aug 6, 13, 20, 27 | Regular | Thames River |
| Apr 23, 30 | Regular | Thames River |
| Oct 1, 8, 15, 22 | Value | Thames River |
| Sep 3, 10, 17, 24 | Regular | Thames River |
| Apr 2, 9, 16 | Value | Thames River |
| Jul 2, 9, 16, 23, 30 | Regular | Thames River |
| Jun 4, 11, 18, 25 | Regular | Thames River |
| May 7, 14, 21, 28 | Regular | Thames River |
London Stafford Hotel - Sunday 3pm following English Tea at 3pm