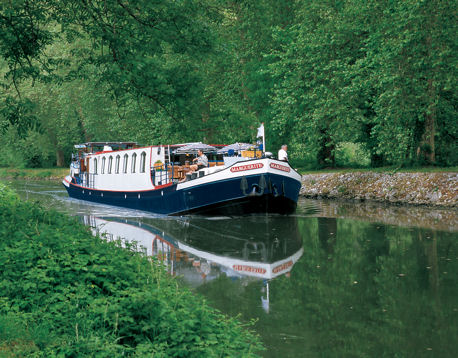 L'Estello
Southern France
PROVENCE AND THE CAMARGUE
Avignon ? Aigues-Mortes
Reverse itinerary on alternate weeks
Your cruise combines well-known sites of Provence with relaxing cruises on the rivers and canals in the South of France
Cruise Route: River Rhone, Petit Rhone, Canal du Rhone a Sète
Highlights: Visit of Pont du Gard, Avignon - Pope's Palace, winetasting, Les Baux de Provence, Arles- Provencal open-air market - Café van Gogh - Amphitheatre, walled city of Aigues Mortes.
SUNDAY, Day 1 Villeneuve les Avignon Welcome Aboard!
You'll be met at 4:00 at the front door of the Avignon TGV Station. You can also drop off your rental car at the Avignon TGV Station. Then you'll be chauffeured to the barge, moored at Villeneuve-les-Avignon. After a festive welcome drink there is time to settle into your cabins, relax on deck, or go for a walk in the city of Villeneuve-les-Avignon. Dinner will be served, accompanied by carefully chosen wines from local vineyards.
MONDAY, Day 2 Cruise to Avignon Cruise past Avignon's Famous Bridge!
In the morning, take a short cruise to Avignon for one of the highpoints of the week: A tour of the large Palais de Papes, from which a rival papacy was established in the 14th century. This building, along with the historic center of Avignon, is classified as a World Heritage Site by UNESCO. There is time to stroll and shop. Lunch will be served on board. A late afternoon cruise past the famous and unfinished Pont d'Avignon bridge, which almost - but not quite - spans the River Rhone!
TUESDAY, Day 3 Avignon to Vallabrègues Pont du Gard - Incredible Roman Aqueduct
This morning, visit Le Pont du Gard, an incredible aqueduct built to carry water to the important Roman city of Nimes. It was constructed entirely without mortar - using stones weighing many tons! After experiencing this monument, you can add to your knowledge at the on site museum. Then it's back to the barge for lunch and in the afternoon cruise to the tranquil mooring of Vallabregues. This typical Provencal village gives you the possibility of walking, a bike ride or why not do as the French, play 'boules' on the town square, while sipping a 'Pastis'.
WEDNESDAY, Day 4 Vallabrègues to Arles Open-air market and Roman Ruins
This morning we cruise early, we arrive in Arles to visit the famous open-air market in Arles. Lunch will be served on the barge and the afternoon we propose a walking tour of Arles. Heading to the heart of town we will see les Arènes, a Roman amphitheater built in the first century AD. There will be time for a drink in one of the outdoor cafés on the Place du Forum, where van Gogh painted his famous painting "Café van Gogh".
THURSDAY, Day 5 Arles to Gallician Hilltop Village of Les Baux - Take in gorgeous views! We will leave the Rhone River and turn into the 'Petit Rhone. After passing the lock of Saint Gilles, we will continue our cruise on the Canal du Rhone a Sete. Our mooring for this night is near Gallician. For wine lovers, there is a local wine shop here, where you can taste and buy the regional 'Costières de Nimes' wines.
After lunch we bring you the hilltop village of Les Baux de Provence, known for its gorgeous views over the Provencal landscape and its artisans colony. Optional, but strongly recommended, is a visit to the Cathedral of Images, a former stone quarry, now used as a three-dimensional screening room. Or take the time to shop for souvenirs in adorable shops which line the cobblestoned streets. Lunch will be ready for on the barge. Later this afternoon, we continue our cruise on the Rhone River, and pass a high Rhone lock to moor at Arles, the town where van Gogh fell in love with the lights and colors of this fascinating countryside.. .
FRIDAY, Day 6 Gallician to Aigues-Mortes 13th-Century Walled Town - Stroll, shop and enjoy a coffee
We start our day cruising through the stunningly beautiful Camargue National Park, home to various wildlife including black bulls and the beautiful white Camargue horses. Then moor at the gates of the amazing 13th century walled town of Aigues-Mortes, an embarkation port for the crusades. There are many historical sites to visit and there will be time to walk along the walls, shop for souvenirs or relax in one of the many outdoor cafés. A farewell dinner awaits you back on board!
SATURDAY, Day 7 Aigues-Mortes to Montepellier Au Revoir
After breakfast, we will say 'Au Revoir' and we will transfer you to the Montpellier Train Station
L'Estello
2022 Rates
There are no rate records in the database for this ship: L'Estello
There are no departure date records in the database for this ship: L'Estello
2023 Rates
There are no rate records in the database for this ship: L'Estello
There are no departure date records in the database for this ship: L'Estello
Rate includes: 6 night cruise, all meals including wine with meals, and excursions (entrance fees not included)