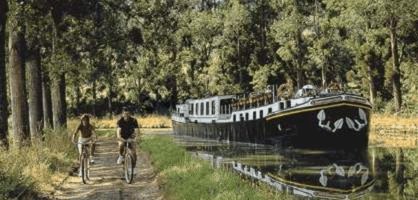 Impressionniste
Burgundy Golf Charter
Ouche Valley
FLEUREY SUR OUCHE to ESCOMMES
Sunday, DAY 1 Fleurey sur Ouche
You are met at the designated meeting point and transferred to the elegant L'Impressionniste moored in Fleurey sur Ouche for your cruise through Burgundy. A Champagne reception welcomes you on board and provides you with a chance to meet the crew. Dinner on board.
Monday, DAY 2 Fleurey sur Ouche / Gissey sur Ouche.
This morning, experience your first day's cruise along this enchanting canal, which also promises a walk or cycle along an ever-present towpath cruising past sleepy villages and pretty lock houses. After lunch we transfer to Golf Blue Green in Quetigny, situated just 5 minutes from the centre of Dijon in the heart of wine producing Burgundy, where you will find a short but technical golf course that runs along the river Mirande. Designed by Chris Pittman, and opened in 1990, this course offers a challenge for all levels of player; so do not be fooled by its length. Dinner on board. (18 Holes, Par 71 625m).
Tuesday, DAY 3 Gissey sur Ouche / La Bussiere.
After breakfast transfer to Golf de Beaune Levernois. The course was designed in the middle of the vineyards of Burgundy, within a framework of relaxation and greenery. It is a technical course with 9 lakes and its bunkers of white sand as well as many large trees. This course is reserved for all levels of player. Return to the barge for lunch and leisurely afternoon cruise to La Bussiere. Dinner on board. (18 holes, Par 72, 6473m).
Wednesday, DAY 4 La Bussiere / Pont D'Ouche.
An exclusive tour of the magnificent 12th Century Abbaye de la Bussiere. The ornamental gardens and lake, wine press, crypt and cellars are interwoven with ancient colonnades, stone staircases and huge stained glass windows. After a Kir Royale aperitif, we enjoy the gastronomic delights of Master Chef Emmanuel Hebrard in the Bistro or Garden Restaurant whilst enjoying a selection of local burgundies. This afternoon we visit the moat-encircled 13th century Chateau de Commarin. Going back 26 generations, the de Vogue family ownership portrays an insight into the glamorous lives of the French aristocracy as well as showing off the Chateau, stables and landscaped gardens. Late afternoon cruise to Pont d'Ouche. Light dinner on board.
Thursday, DAY 5 Pont D?Ouche / La Repe
After breakfast we cruise to Vandenesse, passing grazing white Charolais cattle, rolling hills and picturesque villages crossing the only canal bridge on the Burgundy Canal. In the afternoon we drive to Chateau de Chailly golf course which was designed by Thierry Sprecher and Géry Watine, professional champion of France in 1989. Around its 16th century chateau, the Chailly golf course offers a magnificent course audaciously marrying the classicism of a formal garden and avant-garde golfing technology as regards the golfing construction. Dinner on board. (18 holes, Par 72, 6146m).
Friday, DAY 6 La Repe / Escommes
Our last day's leisurely cruise takes us to the canal summit, 1250 feet above sea level, just before the Pouilly tunnel. We then transfer to Club de Pre Lamy, situated among the rolling pastures of the Auxois as they meet the forest of the Morvan. Under the calm but ever watchful eye of the château and the Collegial church of Thil, the course provides a real test for experienced players. At the same time, in a calm unhurried environment, with beautiful sights, beginners will be able to improve their skills on a course well suited to their needs. Captains Farewell Dinner on board. (9 Holes, Par 33, 2286m).
Saturday, DAY 7 Dijon
After breakfast disembark the barge and transfer the designated drop off point.
Itinerary is subject to change. On alternative weeks, the cruise is in reverse direction.
L' IMPRESSIONNISTE
2022 Rates
L'Impressionniste
Accommodations
Rate Type
Rate Amount
Stateroom per person
Value
5590
Stateroom per person
Regular
6590
Jr Suite
Value
5950
Jr Suite
Regular
6990
Single supplement
Value
2050
Charter 8 passengers wholeboat
Value
54900
Single supplement
Regular
2350
Charter 8 passengers wholeboat
Regular
63300
Charter 9 passengers wholeboat
Value
56600
Charter 9 passengers wholeboat
Regular
65400
Charter 10 passengers wholeboat
Regular
67100
Charter 10 passengers wholeboat
Value
57900
Charter 11 passengers wholeboat
Value
59200
Charter 11 passengers wholeboat
Regular
68800
Charter 12 passengers wholeboat
Value
60500
Charter 12 passengers wholeboat
Regular
70500
| Departure Dates (Sunday) | Rate Type | Route |
| --- | --- | --- |
| Mar 27; Apr 03, 10, 17, 24 | Value | Burgundy |
| May 01, 06, 15, 22, 29 | Regular | Burgundy |
| Jun 05, 12, 19, 26; Jul 03, 10 | Regular | Burgundy |
| Jul 17, 24, 31; Aug 07, 14, 31 | Value | Burgundy |
| Aug 28; Sep 04, 11, 18, 25; Oct 02 | Regular | Burgundy |
| Oct 09, 16, 23 | Value | Burgundy |
2023 Rates
There are no rate records in the database for this ship: L'Impressionniste
There are no departure date records in the database for this ship: L'Impressionniste
Individual Bookings: Child 12 to 17 years traveling with an adult $300 reduction


Charter bookings: Child reduction of $300 applicable for all children aged 0-17 years.
- All cruises require a minimum of 2 passengers to guarantee departures.
- Golf Cruises are available for charter groups at a supplement of $600 per person. Please contact us for itinerary. (non golfers in the group do not pay supplement)