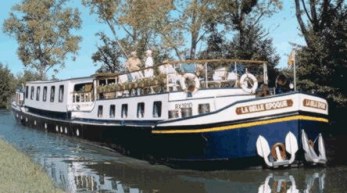 LA BELLE EPOQUE
Tanlay to Venarey les Laumes
Sunday, Day 1 Paris to Tanlay
Guests are met at the Hotel Westminister in Parist and transferred by private chauffered minibus to the barge. A full crew Welcome Aboard with Champagne and canapés. After time to settle into your cabin you will enjoy your first dinner aboard and introduction to Burgundy's excellent cuisine.
Monday, Day 2 Tanlay to Lezinne
Wake to the aromas of ground coffee and French patisseries, enjoy a leisurely breakfast and morning cruise to Lezinne past the vineyards of Epineuil. After lunch we visit the 16th century Renaissance-style Chateau de Tanlay, nestling serenely within this picturesque village and also the 18th century Fosse Dionne. Dinner aboard.
Tuesday, Day 3 Lezinne to Ancy le Franc
After breakfast enjoy a lazy cruise up to Ancy le Franc with plenty of opportunity to wander or cycle ahead as the vessel ascends through the locks towards the beautiful 16th century Renaissance palace and gardens of Chateau d'Ancy le Franc. Lunch in Chablis at a local auberge and then visit the vineyards and town of Chablis, dating back to Roman times. We enjoy a private wine tasting at the Domaine Servan renowned for its Premier and Grand Cru wines popularized by Alexis Lichine in the 1950's. Dinner aboard.
Wednesday, Day 4 Ancy le Franc to Ravieres
Morning visit to medieval Noyers sur Serein to admire the local produce, colors and delights of the wonderful market, or to wander the town ramparts in this, one of the most beautiful villages in France. We return to the barge and enjoy a gentle afternoon cruise past grazing Charolais cattle to Ravieres followed by a visit to the 16th century Renaissance palace and gardens of Chateau d'Ancy le Franc. Dinner on board.
Thursday, Day 5 Ravieres to Montbard
Morning cruise, with excellent walking and cycling opportunities, to Montbard passing the Forges de Buffon. After lunch, we escort you to the exquisite World Heritage UNESCO site of Abbayé de Fontenay founded by St Bernard in 1118. Representing a distinctive example of early Cistercian architecture and virtually intact, Fontenay allows an exceptional glimpse of early Cistercian life and industry with its peaceful gardens and ponds and fascinating cloisters, dormitories and scriptorum. Dinner aboard.
Friday, Day 6 Montbard to Venarey les Laumes
Morning cruise through woodlands and rolling fields, with great towpath biking and walking opportunities, past the tiny canal side villages of Nogent, Courcelles and Les Granges. This afternoon we enjoy a stroll around the hilltop village of Flavigny sur Ozerain, where the film 'Chocolat' was located. On the way from the summit of Mt. Auxois, we look at Alesia, the last battle site between the Gaulles and Romans that took place in 52 BC. Also time to enjoy the town of Semur-en-Auxois. Captain's Farewell Dinner aboard.
Saturday, Day 7 Venarey les Laumes
Disembark after breakfast and transfer to the Hotel Westminister in Paris.
2022 Rates
La Belle Epoque
Accommodations
Rate Type
Rate Amount
Stateroom per person
Regular
6590
Stateroom per person
Value
5590
Charter 8 passengers wholeboat
Regular
63300
Charter 8 passengers wholeboat
Value
54900
Jr Suite
Value
5950
Jr Suite
Regular
6990
Single supplement
Value
1950
Single supplement
Regular
2250
Charter 9 passengers wholeboat
Value
56500
Charter 9 passengers wholeboat
Regular
65400
Charter 10 passengers wholeboat
Value
57900
Charter 10 passengers wholeboat
Regular
67100
Charter 11 passengers wholeboat
Value
59200
Charter 11 passengers wholeboat
Regular
68800
Charter 12 passengers wholeboat
Value
60500
Charter 12 passengers wholeboat
Regular
70500
| Departure Dates (Sunday) | Rate Type | Route |
| --- | --- | --- |
| Mar 27; Apr 3, 10, 17, 24 | Value | Burgundy |
| May 1, 8, 15, 22, 29 | Regular | Burgundy |
| Jun 5, 12, 19, 26; Jul 3, 10 | Regular | Burgundy |
| Jul 17, 24, 31; Aug 7, 14, 21 | Value | Burgundy |
| Aug 28; Sep 4, 11, 18, 25; Oct 2 | Regular | Burgundy |
| Oct 9, 16, 23 | Regular | Burgundy |
2023 Rates
There are no rate records in the database for this ship: La Belle Epoque
There are no departure date records in the database for this ship: La Belle Epoque