L'ART DE VIVRE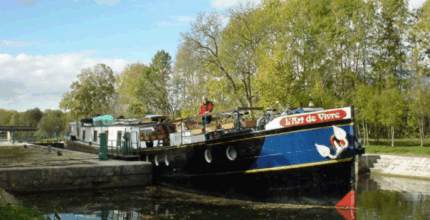 BURGUNDY CRUISE
Auxerre to Chevroches
Burgundy boasts some of the world's finest wines with almost 60,000 acres of sunlit vines and arguably the prettiest canal in France. The Nivernais Canal randomly meanders along the path of the picturesque River Yonne, This delightful exchange brings you to the finest cruising in Burgundy. Medieval villages are surrounded by unspoiled countryside where gastronomic delights are a culture in themselves.
Sunday, Day 1 PARIS TO AUXERRE
Guests are met at the Hotel Westminster in Paris and transferred by private chauffeured minibus to the pretty L'Art de Vivre. Following a champagne welcome, you are free to explore the medieval town of Auxerre, or take a stroll along the banks of the River Yonne before returning for dinner on board.
Monday, Day 2 AUXERRE TO VINCELLES
Our morning cruise takes us past vineyard-clad hillsides to our rural mooring at Vincelles. The afternoon excursion is to Chablis, home of one of the most famous white wines in the world. A tasting in one of the town's aged cellars will introduce you to some of the local Petit Chablis and Chablis wines. Dinner on board.
Tuesday, Day 3 VINCELLES TO MAILLY LA VILLA
After breakfast, our excursion is to the medieval town of Auxerre. Originally the capital of Lower Burgundy, the town prides itself on its fine churches and particularly its magnificent cathedral. We then return to the barge for a cruise southwards through rich pasture lands past grazing Charolais cattle to the town of Mailly la Ville. Dinner on board
Wednesday, Day 4 MAILLY LA VILLA TO LE SAUSSOIS
This morning, we visit the charming 14th century medieval market village of Noyers one of the most beautiful villages in France, on an excursion through delightful countryside. In the afternoon we cruise past the Saussois cliffs where an international climbing centre creates a spectacular setting. There will also be the opportunity to enjoy spectacular walks before dinner ashore
Thursday, Day 5 LE SAUSSOIS TO LUCY SUR YONNE
In the morning we enjoy an excursion to the town of Vezelay, one of Burgundy's most famous treasures with the Romanesque Basilica of St Mary Magdalene, craft shops and fine views of the surrounding countryside. Lunch on board followed by an afternoon cruise through the Yonne valley to arrive at Lucy sur Yonne. Dinner on board.
Friday, Day 6 LUCY SUR YONNE TO CHEVROCHES
A morning cruise through beautiful countryside then takes us to Chevroches. In the afternoon, we visit the Chateau of Bazoches, whose illustrious visitors included Richard the Lionheart and which was later remodeled by Marechal Vauban. Captain's Farewell Dinner on board.
Saturday, Day 7 CHEVROCHES
Disembark after breakfast and transfer to the designated drop off point.
On alternative weeks the cruise is in reverse direction.
This itinerary is subject to change
L' ART DE VIVRE
2022 Rates
L'Art de Vivre
Accommodations
Rate Type
Rate Amount
Stateroom per person
Value
4950
Stateroom per person
Regular
5790
Single supplement
Value
1850
Single supplement
Regular
2100
Charter 6 passengers wholeboat
Value
34600
Charter 6 passengers wholeboat
Regular
40000
Charter 7 passengers wholeboat
Regular
41500
Charter 8 passengers wholeboat
Value
37000
Charter 8 passengers wholeboat
Regular
43000
Charter 7 passengers wholeboat
Value
35800
| Departure Dates (Sunday) | Rate Type | Route |
| --- | --- | --- |
| Mar 27; Apr 3, 10, 17, 24 | Value | Burgundy |
| Jun 5, 12, 19, 26; Jul 3, 10 | Regular | Burgundy |
| Aug 28; Sep 4, 11, 18, 25; Oct 2 | Value | Burgundy |
| May 1, 8, 15, 22, 29 | Regular | Burgundy |
| Jul 17, 24, 31; Aug 7, 14, 21 | Value | Burgundy |
| Oct 9, 16, 23, 30 | Value | Burgundy |
2023 Rates
There are no rate records in the database for this ship: L'Art de Vivre
There are no departure date records in the database for this ship: L'Art de Vivre