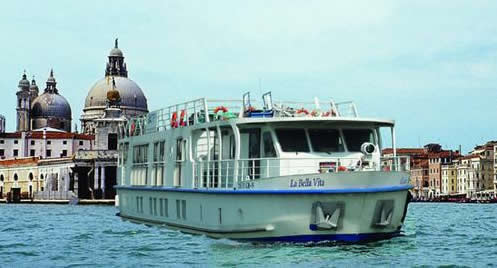 LA BELLA VITA
Venice to Mantua
ITINERARY
Venice of course is a jewel in the crown of the Venetian lagoon and our route is a mixture of canal and river following the ancient trade routes used by the Romans and the early Mediterranean settlers before them. As well as the incredible delights of Venice itself, where the history goes back over 2000 years with some architectural features dating back even to the Byzantenial era, the additional opportunity afforded by hotel barge travel becomes obvious as we create our own schedule oblivious to the hustle and bustle of other visitors to Venice.
Sunday, Day 1 Venice
Guests are met at Villa Laguna Hotel in Venice on Sunday at 5pm and transferred to La Bella Vita. A Prosecco welcome gives you a chance to meet the crew, followed by a late afternoon cruise along the Giudecca Canal were we admire some of the most famous monuments of Venice: the Stucky Mill, Chiesa del Redentore, the impressive Basilica della Madonna della Salute, the Punta della Dogana dividing the Giudecca Canal from the Grand Canal and the ancient Benedictine monastery of San Giorgio. Dinner aboard, followed perhaps by an evening stroll to the magnificent St Mark's square. We moor overnight in the Riva Sette Martiri by the Naval Museum.
Monday, Day 2 Venice to San Pietro
Guided tour to the centre of Venice, experiencing the unique atmosphere of this magical city and perhaps discovering some hidden parts of it: the gardens of the Biennale Exhibition of Modern Arts, the Church of San Pietro in Castello planned by Palladio, the impressive surrounding walls of the Arsenal with its magnificent Renaissance main gate and the Naval Museum hosting a model of the Bucintoro (Doge's Boat) and the Pavilion of Gondolas housing Peggy Guggenheim's own vessel. After lunch, relax aboard or wander. In the late afternoon we cruise to Pellestrina, which separates the Venetian Lagoon from the Adriatic Sea. We leave St. Mark's Basin and continue on the Canal of the Orphans passing several lagoon islands: San Sevolo, once a hospital for the Crusaders, San Lazzaro degli Armeni, an early 18th century Armenian monastery, San Clemente, a luxury hotel and poetical Poveglia. These islands sport brightly colored houses, painted fishing boats and tiny churches. We moor in San Pietro in Volta for a Venetian aperitif in a typically local bacaro. Possible time to stroll or cycle along the 18th century Istrian sea wall. Dinner aboard.
Tuesday, Day 3 San Pietro to Taglio di Po
After breakfast, we cruise to Chioggia, city of Goldoni?s plays. Here we visit the 18th?century Church of San Domenico set on its own island, to see Carpaccio?s St Paul, his last recorded painting and other works of art by Tintoretto and Bassano. We also admire the Piazzetta Vigo and visit the colourful fish market. There will also be the opportunity to enjoy a short tour of Chioggia?s pretty canals in a traditional locally-built boat, before re-joining La Bella Vita. Passing through a nature reserve with flamingos and occasional heron, snipe and other wildfowl, we travel upriver to Taglio di Po for dinner ashore hosted by the owners at the beautiful 17thC Villa Ca?Zen, a private stately home by the river where Lord Byron courted the Countess Giuccioli and wrote some of his best poetry.
Wednesday, Day 4 Taglio di Po to Zelo
This morning we join the Bianco canal and cruise to Adria, an ancient Etruscan town where we visit the Archaeological Museum. After lunch on board, we drive to the Bagnoli Estate to tour the Renaissance gardens and wine cellars of the 17thC Villa Widmann Borletti to enjoy a private tasting of their renowned estate-grown vintages. This winery has been supplying Venetian society for centuries. Afterwards, we rejoin La Bella Vita moored at Zelo. Dinner on board.
Thursday, Day 5 Zelo to Governolo
Morning excursion with a guided tour of the Renaissance city of Ferrara, including the Schifanoia Palace, renowned for its fabulous 15thC frescoes. We also admire the exterior of the Estense Castle and its moat and visit the magnificent cathedral with its fa?ade of sculpted images described as an illustrated Bible. Return to the hotel barge moored in Trevenzuolo for an afternoon canal cruise past villages and farmsteads to Governolo and dinner on board.
Friday, Day 6 Governolo to Mantua
Our final cruise has a dramatic approach to Mantua, home of the poet Virgil, artists Mantegna and Donatello and a captivating lakeside setting. Mantua displays extraordinary neo-classical and baroque architecture, portrayed in the 14thC Ducal Palace housing some 15 gardens and courtyards, a museum, basilica and theatre. The intricate frescoes, Gallery of Mirrors and exquisite Rivers Room and 12,000 paintings and sculptures all create a Grand Finale to our Italian Renaissance adventure. Captain?s Farewell Dinner on board.
Saturday, Day 7 Mantua to Venice
After breakfast, guests are transferred by private chauffeured minibus to the Hotel Laguna Palace in Mestre or Piazzale Roma in Venice.
On alternate weeks the cruise is in reverse direction. This is a sample itinerary and subject to change.
2020 Rates
There are no rate records in the database for this ship:
There are no departure date records in the database for this ship:
2021 Rates
There are no rate records in the database for this ship:
There are no departure date records in the database for this ship:
Meeting Point:
Villa Laguna Hotel in Mestre or Piazzale Roma in Venice on Sunday at 5pm and transferred to La Bella Vita
Individual Bookings: Child 12 to 17 years traveling with an adult $300 reduction
Charter bookings: Child reduction of $300 applicable for all children aged 0-17 years.
- All cruises require a minimum of 7 passengers to guarantee departures.