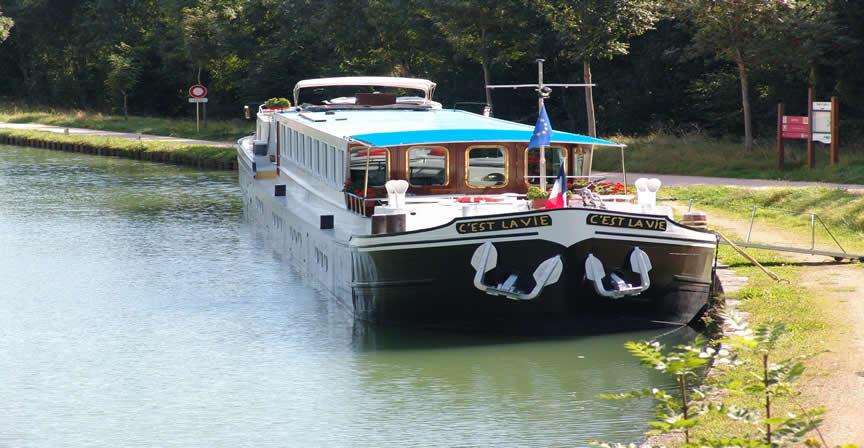 Cest le Vie
Upper Loire


NEW FOR 2016
Sancerre to Montargis
Briare Canal and Latéral to the Loire Canal


Highlights: Sancerre winery, Faiencerie of Gien,
Château of St Fargeau, Montargis,
Château of Sully sur Loire. Canal bridge of Briare
Restaurant :
Sunday: Welcome to C'est la Vie!
Paris to the C'est la Vie moored on the Canal Lateral
Your party will be met in Paris at 3pm by our driver and driven to the C'est La Vie moored in the hamlet of " Les Fouchards" situated 6 miles from Sancerre, and close to Cosne sur Loire, which is just the other side of the Loire river.
With a glass of champagne to welcome you to the C'est La Vie, and after introductions to the crew, you have time to settle into your spacious cabins before your first gourmet dinner aboard.
Monday: Sightseeing Sancerre. Cruise to Beaulieu.
On our way, this morning we cruise to the village of Beaulieu, after lunch we take a short drive through the vineyards to visit to the fortified town of Sancerre, where you will have a private wine tasting of this famous Sauvignon Blanc
This hill top medieval site gives you panoramic views over the Loire river and of the neighbouring vineyards of Pouilly Fumé,
Returning to the "C'est la Vie for dinner.
Tuesday: Sightseeing Chateau of St Fargeau. Cruise to Ouzouer sur Trézée
This morning's cruise takes us to the town of Ouzouer sur Trézée, crossing over the Loire river at Briare on the "Pont Canal", this aqueduct designed by Gustave Eiffel, construction of this canal bridge started in 1890.
The Château of St Fargeau is this afternoon's destination, dating from the 10th century; it was built by the bishop of Auxerre and has undergone many additions and restorations over the following years.
Returning on board in time for cocktails and dinner
Wednesday: Sightseeing Faiencerie of Gien, Dinner ashore. Cruise to Rogny -les -Sept-Ecluses
From Ouzouer sur Trézée we drive to the town of Gien, the world famous centre for French table ware after a visit to the pottery, take a walk through this market town and discover its remarkable history, on the banks of the Loire river there has been a settlement here since Romans times. Back on board for lunch and an afternoon cruise to the town of Rogny-les-Sept-Ecluses, there you will see 7 remarkable old locks, (hence its name Sept Ecluses) dating back to the reign of Henry IV, it was a major feat of engineering for its time.
Tonight we dine ashore at a local restaurant.
Thursday: Sightseeing Château of Sully sur Loire. Cruise to Montbouy.
If you haven't already put on your walking shoes, now is the perfect time as we cruise to the village of Montbouy. After lunch you will be driven to the Château of Sully, it is a prime example of a medieval fortress built by the river Loire, from the latter part of the 14th Century with such royal visitors as Queen Anne of Austria (Louis XIV mother) and Cardinal Mazarin, it deserves its place in history.
We head back to the C'est La Vie with time to relax before dinner.
Friday: Sightseeing Montargis. Cruise to Montargis.
Meandering along the canal, Montargis is our last port of call, with its 131 bridges, you can see why its nick name is "little Venice", after lunch take a stroll around and discover the feudal castle, the half timbered buildings, shops and cafes. Perhaps buying some Pralines for which Montargis is famous
The C'est La Vie awaits your return for the Captains dinner, which ends your cruise in style.
Saturday: Return to Paris
After breakfast, you'll be chauffeured back to Paris for the end of the morning.
We hope to see you again on the C'est la Vie!

Please note that the cruise itinerary alternates direction each week.

2022 Rates
There are no rate records in the database for this ship: C'est la Vie
There are no departure date records in the database for this ship: C'est la Vie
2023 Rates
There are no rate records in the database for this ship: C'est la Vie
There are no departure date records in the database for this ship: C'est la Vie