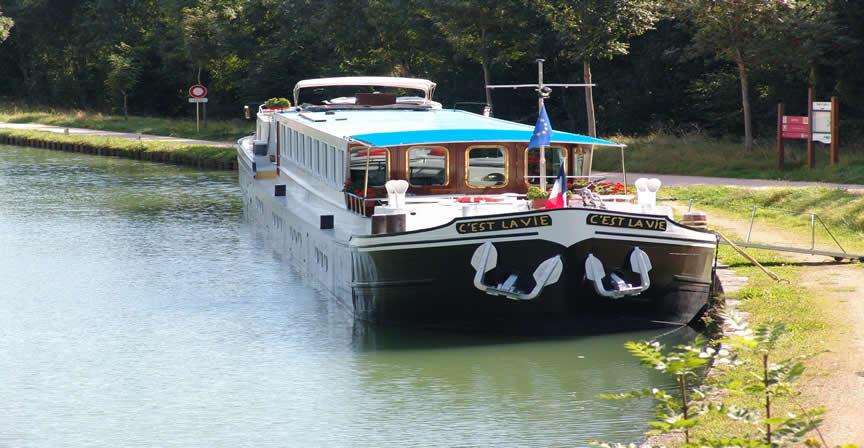 Cest le Vie
Cruise in the Northern Burgundy Region
Enjoy yourself as we cruise through the centuries-old canals and history-rich waterways of rural France, mooring at picturesque medieval villages and meandering through miles of magnificent countryside spotted with wineries and chateaux. Enjoy, also, the superb wines, bountiful regional cheeses and sumptuous foods that are synonymous with the good life in France and beyond.
Immerse yourself in the magnificent beauty of France's countryside and enjoy the relaxed but luxurious surroundings of The Cest le Vie. Sit back and unwind as we cruise into the peace and tranquility of rural France with its ever-changing vistas. Walk or jog or bike on the various paths along the way.
Relax on the sun deck and soak up the passing vistas. Explore by bicycle on the riverbank, or roam the picturesque villages beside your route. Stroll along the towpath and meet the boat at the next lock. After dinner, amble around the nearby village. Maybe watch a traditional regional sport.

FEATURES
* Cabins : king bed or 2 twin beds - 220 - 236 sq ft
* Private bath with roomy shower
* 110 & 220 volt power in all suites
* Writing desk in each suite
* 8 Passengers
* 4 - 5 Crew members
* Surround sound Stereo, CD
* Bicycles on board
* Air conditioning / Central Heating
* Handicap Access - NO
Good for walking and cycling, beautiful gardens area.
2022 Rates
There are no rate records in the database for this ship: C'est la Vie
There are no departure date records in the database for this ship: C'est la Vie
2023 Rates
There are no rate records in the database for this ship: C'est la Vie
There are no departure date records in the database for this ship: C'est la Vie