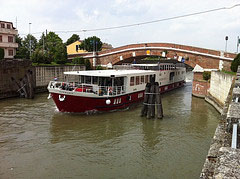 34 passenger Ave Marie

This Italian boat has been totally rebuilt in order to meet the most challenging clients' requests. Only the hull of the original 1970s sand digger sailing along the Po has remained and the boat is now brand new. It has been completely designed by a renowned Italian architectural firm. Its shapes, colours and materials have been chosen carefully in order to create a warm, sober and yet sophisticated atmosphere.
She is 41 metres long,7.5 metres wide, two-decker Dutch boat.

The boat offers a spacious air conditioned restaurant, where the guests can enjoy their meals and relax, tasting the wide range of beverages available on board, in a familiar atmosphere.
After an italian-style dinner the clients can take advantage of a short briefing about the next day stage and find an amazing opportunity sitting on the spacious outside deck, during the frequent warm evenings. Every morning the clients can enjoy the continental breakfast buffet and at the end of each stage are welcomed on board by a well deserved snack. There is always the possibility to spend the whole day on board if clients don't want to cycle for one or more days.

CABINS
› 10 double standard cabins (3 of these can become triple cabins, with a bunk bed) of approx. 11 m2
› 3 double superior cabins (each of these can become a triple cabin, with a bunk bed), window that opens and a tv. Approx. 11 m2
› 4 single cabins (each of these can be sold as double cabin with bunk beds) of approx. 7,5 m2.
› 40 guests max capacity
Each cabin boasts large windows, comfortable low beds, en-suite facilities and air conditioning.


THE LIVING ROOM
Air conditioned living room, measuring 11 x 7,5 m and divided into two areas:
› the restaurant (33 seats)
› the lounge (up to 28 seats).
ADDITIONAL FEATURES
› two sundecks
› dedicated bike parking (for approx. 40 hanging bikes)
› internet point with two computers
› free wi-fi
› large 52" screen TV in the lounge

NAVIGATION ON RIVERS AND CANALS
The program has been planned to feature navigation along the Fissero/Bianco canal, which runs parallel to the Po and connects Mantova to the Adriatic Sea. A few weeks in the year, when the waters of the Po are propitious, the barge will be allowed to navigate along the Po river. This means that the some of the overnight stays will be modified.
High and low water issues can modify some of the daily stretches or embarkation points. These decisions are taken by the boat captain.
BIKE ROUTE
The tour is entirely on level ground and the daily cycling stages vary from 30 km to 55 km. Much of the pedaling is along rivers and canals on tarmac cycle paths or roads with a low volume of car traffic. It is envisaged that the boat will sail some of the way during breakfast or evening meal to make getting out of the towns easier or to shorten the stages.
BICYCLES
Different frame sizes of unisex bikes with 27-gears Shimano Deore will be available on board. They are fully equipped with 1x side-bag, 1 water bottle, 1 map holder/front bag, 1 padlock per bike and 1 repair kit each couple.
Due to high transportation costs of the bikes in Venice and logistic issues it is strongly advised not to bring your own bikes.
2022 Rates
Ave Maria
Accommodations
Rate Type
Rate Amount
Stateroom per person
7 night
2390
Single Cabin
7 night
2665
| Departure Dates (Saturday) | Rate Type | Route |
| --- | --- | --- |
| Apr 02, 16, 30; May 14, 28; Jun 11, 25; Jul 09, 23; Aug 06, 20; Sep 03, 17; Oct 01, 15 | 7 night | Venice to Mantua |
| Mar 26; Apr 09, 24; May 07, 21; Jun 04, 18; Jul 02, 16, 30; Aug 13, 27; Sep 10, 24; Oct 08, 22 | 7 night | Mantua to Venice |
2023 Rates
There are no rate records in the database for this ship: Ave Maria
There are no departure date records in the database for this ship: Ave Maria
| | | |
| --- | --- | --- |
| | | |
| Cabin | Twin Cabin with storage | Bathroom |
| | | |
| Breakfast | Breakfast | Dinner |
| | | |
| Crew | Dining Area | Bikes |