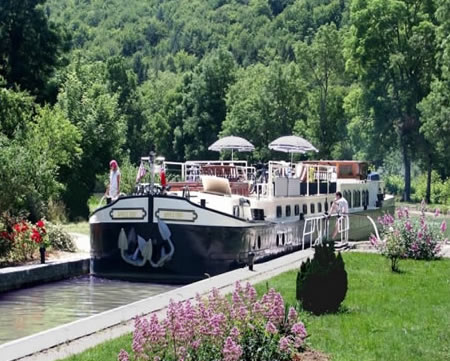 APRES ATOUT
PONT D'OUCHE TO ST JEAN DE LOSNE
The day to day itinerary described below is a typical cruise. However, on any one cruise the moorings may change and the places visited may vary depending on the season and guest preferences.
Sunday – Pont d'ouche. Arrival.
Depart from Paris in our luxury private transfer service direct to the barge moored in the port at Pont d'ouche, where you board the Apres Tout for your canal cruise through Burgundy on the Canal du Bourgogne. A champagne reception gives you a chance to meet the crew. A delicious four course dinner will be served with wonderful wines to match, followed by after dinner drinks – weather permitting all served on the magnificent teak deck.
Monday – Cruise to Gissey and Cookery lesson. Visit an Art Gallery & Châteauneuf-en-Auxois.
This morning you will start to discover the delights of this beautiful canal cruise, there are ample opportunities to disembark the barge at the many locks and walk or cycle the sections between each 'ecluse'. The kitchen is now open for your first lesson! We start by preparing a traditional Quiche Lorraine learning how to make short crust pastry, also this morning you will prepare Cheese Gougeres, a Burgundy favorite that is served with evening cocktails. This afternoon we make a special private visit to an English artist of world renown, who has set up his gallery and workshop in a converted barn in a near by village. His work is world class, and he has been recently commissioned to create a piece of art to celebrate the Olympics in London. We are shown through the workshop, and here he explains how he makes his marvelous pieces of bronze sculptures, some of which have been produced for the Queen of England. We then drive up to Châteauneuf-en-Auxois, a medieval hill-top village steeped in history. This is a charming place with stunning views at every corner, and you can really appreciate from this height, all of the amazing surrounding countryside. We return to the Apres Tout for cocktails and dinner, which is moored in the picturesque village of Gissey.
Tuesday - Cruise to Fleurey Cookery lesson. Visit Beaune
The barge continues to cruise through the peaceful Ouche Valley, where time seems to have stood still over the centuries. A relaxing morning will be spent cruising on the canal, as the barge slowly cruises towards Fleurey. Our lesson today features fresh pasta – there is nothing better! We prepare ravioli filled with a light chicken and herb mousse, a light as air and truly delicious. After lunch served on the deck - weather permitting, we visit the delightful town of Beaune, the capital of the wine region of Burgundy. Enjoy a visit to the famous Hôtel-Dieu, Hospice de Beaune with its interesting history and magnificent tiled roof. There is a fabulous old fashioned food store in the centre of town, we include a visit here and purchase some of their wonderful treats! After some free time for shopping or strolling in the pedestrian streets we have an optional appointment for a private wine tasting at the famous cellars of Joseph Drouhin, this tour is by invitation only. Tonight we are moored in Fleurey.
Wednesday - Cruise to Dijon. Cookery lesson Visit Dijon. Dinner on shore
The Apres Tout continues cruising on the canal towards the city of Dijon. Today we are preparing a Burgundian favorite 'escargots' the famous snail! The best way to serve them is dripping in a garlic and herb butter which we make and then fill into the shells. Also this morning we are preparing a wonderful and visually exciting turkey, apricot and prune terrine served with a port and orange sauce. This afternoon we visit Dijon, a wonderful town with a long and interesting history. There is plenty of time to shop in the city's many chic boutiques or sit in a pavement café and watch the world go by. Later, we will visit the Grey Poupon mustard shop for a tasting of this famous product and then take a walk through the historic area of the town which will captivate you with its historical past, including the Ducal Palace. Once back to the barge, perhaps try a 'Kir Royale' made with local Cassis, a liqueur invented here in Dijon made from blackcurrants and mixed with the Burgundy Champagne equivalent named Cremant. This evening dinner is taken on shore at a wonderful restaurant.
Thursday- Cruise to Longecourt. Cookery lesson Visit Clos de Vougeot and Jeep drive through the vines.
Cruising south away from Dijon, we now continue our journey along the Canal de Bourgogne through the flat plains towards the River Saone. For your cookery lesson today; we are putting the emphasis on desserts, and you will be preparing poached fruits with butterscotch sauce and a fresh fruit meringue pavlova. After lunch, your guide takes you to the area of the 'Côte d'Or' (In French meaning Gold Coast) planted with vines that produce some of the world's most famous wines. Here we visit the "Clos de Vougeot", a medieval château surrounded by vineyards. This is truly a magnificent Chateau and the headquarters of the Chevaliers du Tastevin, whose special label is awarded annually to the finest Côte d'Or vintages. We have arranged some fantastic World War II jeeps to take you through the vines to explore some of the small tracks that wind through this famous land for some exhilarating fun! Back to the barge moored in Longecourt for a refreshing drink followed by a delicious dinner.
Friday - Cruise to St Jean. Lunch in Gevry Chambertin. Truffle tasting and truffle lesson.
Enjoy a relaxing morning on board, as we cruise on the canal towards St Jean de Losne, the largest inland port in France. Late morning you transfer to the charming village of Gevrey Chambertin, in the heart of vineyards. Here you are welcomed by Madam Drouhin Laroze, the owner of this prestigious 'Grand Crus' property. We have a splendid lunch on the terrace over looking the family's vines while enjoying her choice of wines. This is truly a very unique experience. After lunch, we are given a very informative private tour of the cellars. We then take a scenic drive along the famous 'Route du Grand Crus', Passing through many of the famous wine villages. We continue with the gourmet theme and visit a local truffle producer at his Chateau, near Nuits St George. Here, we learn all about this most valued mushroom and of course, purchase some of these delights as once back to the barge we will be preparing something special that will feature in the gala dinner tonight! We return to the barge – by now moored on the beautiful River Saone – where we slip away from the mooring for a gentle cocktail cruise on this lovely river.
Saturday – Depart the barge
After breakfast disembark and transfer to Paris with our private luxury transfer service.
2022 Rates
There are no rate records in the database for this ship: Apres Tout
There are no departure date records in the database for this ship: Apres Tout
2023 Rates
There are no rate records in the database for this ship: Apres Tout
There are no departure date records in the database for this ship: Apres Tout